The following table shows our main notes, about how much of a competitive threat TrackMyFone provide to FlexiSPY, with one star meaning that they can technically be ignored and five stars meaning that they could cause serious problems with our business.
| TrackMyFone Positives | TrackMyFone Negatives |
| --- | --- |
| Supports Android OS 7.0 | Too hard to install if you already use antivirus software |
| Offers remote device lock or wipe | Immediately detected by antivirus |
| Cheaper pricing than competitors | Alerts didn't work |
| Offers remote application blocking | Blocked apps cannot be unblocked |
| Not as battery intensive as other spy apps | Locking the phone with a password applies the password permanently to the phone |
| | Support team are not really that helpful |
| | Causes a noticeable increase in data usage |
TrackMyFone is available for both iPhone and Android. We will be testing the Android version in this review. TrackMyFone, like Mspy, are one of the few companies offering spyphone software with a no jailbreak solution. This is something that other major companies, such as FlexiSPY, still do not offer. Furthermore, TrackMyFone is one of the only spyphone companies to support Android OS 7.0. FlexiSPY only support up to Android OS 6.0.1 at the moment.
TrackMyFone Android Spy App Test Summary
TrackMyFone makes purchasing spyphone software that much easier when compared to FlexiSPY. This is because they only provide two products. An Android product, called Android Premium, and an iPhone No-Jailbreak product.

Immediately there is no need to waste time comparing different product versions or seeing what features you get with which product. You simply get one product to pick. Based upon the features of the TrackMyFone Android product, a direct comparison for this review will be FlexiSPY Extreme
TrackMyFone Android Premium
Hidden software
Call logs
SMS messages
Contacts
Whatsapp
Skype
Facebook Messenger
Kik Messenger
Instagram
Tinder
LINE
Remotely wipe phone
Remotely lock phone
Remotely take screenshots
Keyword Alerts
Phone number watchlist
SIM change alerts
Geofencing alerts
Viber
Email capturing
GPS tracking
Images
Videos
Browsing history
Calendar
Installed apps
Remotely block apps
Online control panel
TrackMyFone Premium offers an impressive array of features. Whilst many of them you can get with nearly any spyphone product the feature for remote screenshots, remotely locking or wiping the device and remotely blocking applications on the phone from use, are what make TrackMyFone a very appealing proposition, compared to FlexiSPY.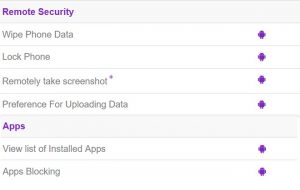 After all, whilst FlexiSPY boasts to have 150 features, many of them are not really that innovative. It would be nice to see FlexiSPY investing in useful features, such as remote device wiping or blocking or blocking apps, as TrackMyFone does, instead of just adding yet more IM support.
| FlexiSPY Extreme | TrackMyFone Premium |
| --- | --- |
| 3 months - $199 | 1 month - $29.99 |
| 1 year - $349 | 3 months - $39.99 |
| | 12 months - $69.99 |
| | |
When it comes to pricing and subscriptions, TrackMyFone definitely is the more appealing product. It offers the same 1, 3 and 12-month subscription packages, the same as FlexiSPY, but the difference in price is immense. FlexiSPY defend their prices due to having the most features and the features that people want. This includes call recording, ambient recording, spycall and call intercept.

TrackMyFone doesn't offer any of these features. So, if you want to record calls then you only currently have one choice completely and that is FlexiSPY. So, because of that, they pretty much have the entire call recording and call interception market to themselves. This is because no other competitor wants to be the next StealthGenie and be indicted for breaking illegal laws in the USA regarding wiretapping and spying.

Below you can see a complete feature breakdown of TrackMyFone for Android compared to FlexiSPY Extreme for Android and whether the features worked or failed.
| Feature | TrackMyFone | Did it work? | FlexiSPY Extreme |
| --- | --- | --- | --- |
| Hidden software | ✓ | Software is detected as a virus | ✓ |
| Call logs | ✓ | Worked successfully | ✓ |
| SMS messages | ✓ | Worked successfully | ✓ |
| Contacts | ✓ | Worked successfully | ✓ |
| Whatsapp | ✓ | Worked successfully | ✓ |
| Skype | ✓ | Worked successfully | ✓ |
| Facebook Messenger | ✓ | Worked successfully | ✓ |
| Kik Messenger | ✓ | Worked successfully | ✓ |
| Instagram | ✓ | Worked successfully | ✓ |
| Tinder | ✓ | Worked successfully | ✓ |
| LINE | ✓ | Worked successfully | ✓ |
| Remotely wipe phone | ✓ | Worked successfully | ✓ |
| Remotely lock phone | ✓ | Failed to remotely lock phone | ✓ |
| Remotely take screenshots | ✓ | Works only if screen is unlocked | ✓ |
| Keyword Alerts | ✓ | Failed to generate alerts | ✓ |
| Phone number alerts | ✓ | Failed to generate alerts | ✓ |
| SIM change alerts | ✓ | Failed to generate alerts | ✓ |
| Geofencing alerts | ✓ | Failed to generate alerts | ✓ |
| Viber | ✓ | Worked successfully | ✓ |
| Email capturing | ✓ | Worked successfully | ✓ |
| GPS tracking | ✓ | Worked successfully | ✓ |
| Images | ✓ | Worked successfully | ✓ |
| Videos | ✓ | Worked successfully | ✓ |
| Browsing history | ✓ | Worked successfully | ✓ |
| Calendar | ✓ | Worked successfully | ✓ |
| Installed apps | ✓ | Worked successfully | ✓ |
| Remotely block apps | ✓ | Blocked apps can't be unblocked | ✓ |
Most features worked without issue. In fact, TrackMyFone, is the only spyphone application that remotely allows you to block installed applications. But there were a few issues. First, there is no way to unblock the apps you have blocked inside the TrackMyFone portal. We had set Kik Messenger to be blocked, which it did successfully, but when we went back to the online portal there is no unblock button and we can only block it again.

Not only that, we were left with Kik Messenger that could no longer be unblocked. The message text used also obviously makes the device owner immediately know something is being used to monitor them. That may explain why the text reads towards promoting the software for child monitoring and asks to contact your guardian to unblock it.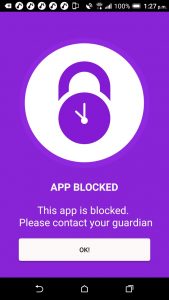 First, when you remotely lock the phone with a passcode, it keeps that passcode permanently on the phone. It isn't just a onetime thing. So, if you remotely lock the phone with a password of 123456 it means that the phone will then permanently have a password of 123456 on it until the passcode is disabled on the device itself. There is no way to stop this from the TrackMyFone portal.
Can you remotely control TrackMyFone without their phone?
Inside the TrackMyFone online portal you can easily see all captured data from the device through the Reports section. Here, captured data is listed in tabs. These range from phone logs and IM apps (called Messenger), to location data and photos and videos.

Immediately after activation, TrackMyFone started capturing data and uploading it to the online portal. The whole online portal has a very basic look to it. Lots of bold colours and short and to the point text. This makes it far easier to navigate and use compared to the portal of FlexiSPY.

Inside the portal, you can remotely turn features on or off, export data, set up alerts and remotely block apps or wipe/lock the device. When you lock the phone remotely you first specify the password to lock the phone with. You also can see a complete history of all the remote commands sent to the device.
Can you find TrackMyFone on the phone once it is installed?
After purchasing TrackMyFone the welcome email, like FlexiSPY, contains your online portal username, password and activation code. You simply log in to the online portal, using a computer, with the TARGET device in your hand, to start the installation process. The software download site was not flagged as a suspicious site on either a computer or mobile device. The online portal was also not flagged on a computer or mobile device.

When we tried to install the software on our Android device, after downloading the APK file using the device browser and saving to the browser itself, the software would fail to run. We downloaded it several times over, but each time we tried to run it we got an error message.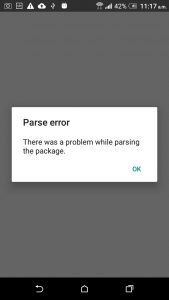 In the end, we had to log in to the TrackMyFone online portal on a PC, download the APK file to the computer and then transfer the APK file from the computer to the device, using a USB cable. After that, when we ran the APK file on the device, but it still failed to install and run.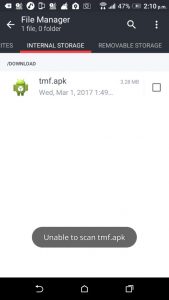 The only way we managed to install the software was to get technical. We had to connect the Android device to a computer and use ADB (Android Device Bridge) to install the APK file manually. ADB is for Android developers and should not be needed to install a normal program.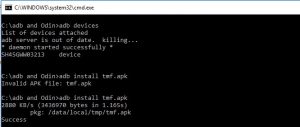 This means that immediately, just to even install TrackMyFone on an Android device, it is far too technical for most customers to even try. As part of our tests, we contacted the TrackMyFone support team about this. They said to remove the antivirus software. We did that and we could install the software normally.

However, this means that customers whose devices have antivirus software installed, either by them or part of the phone OS, may have trouble installing TrackMyFone to even get started. Now, at that point, we could have concluded this review and awarded FlexiSPY our recommendation. But instead, we managed to get the software installed and we immediately noticed a few interesting things.

First, TrackMyFone is installed as Map Settings, to try to avoid being detected. Unfortunately, it was detected as a virus using Lookout. Although we also have Clean Master installed and that detected it as being safe instead. We trust Lookout over Clean Master and, given what the software can do, it makes sense that it would be picked up as surveillanceware once installed, the same as Mspy.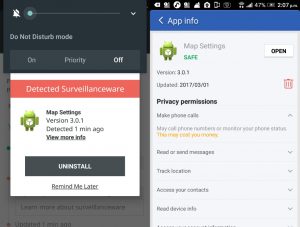 With the software finally installed on the device, as we suspected, it installs itself as a device administrator. This suggests that the software is not entirely hidden and is visible in the Application Manager menu under an innocent enough name so that the device owner does not think to remove it.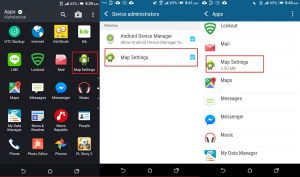 If they try to remove it from this menu they won't be able to. Because TrackMyFone is installed as a device administrator it adds one extra layer to stop it from being removed.

When you activate TrackMyFone, if the device is rooted, you get asked to provide root permission by SuperSU. After you can perform several actions. This includes hiding the icon, turning on browser capturing through the Accessibility menu and enabling app blocking.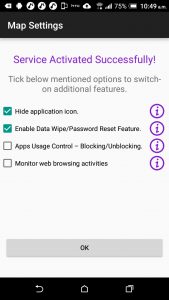 However, even after you hide the software icon TrackMyFone is still visible in the Application Manager menu as Map Settings. Also, Map Settings is listed, quite clearly in both the Accessibility and the Location Services menu. So, it isn't discreet at all as they say on their website.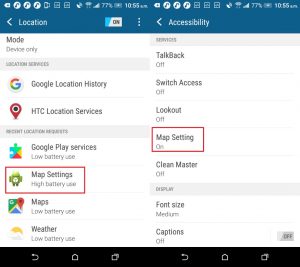 Furthermore, after we had finished our testing, there are no instructions inside the online portal for how to remove the software. Luckily though, we figured it out, it's just like Mspy, which also install itself in the same way and can be removed in the same way too. It's bad though that this is something that you must contact support to help you with though.
Remove Map Settings as device administrator.
Go to App Manager and uninstall Map Settings to remove the program.
Also, TrackMyFone charges you 'up to $20' a time to change the license to another device. That means that, if you start off with an Android device and later switch to iPhone, you must pay TrackMyFone to do it. This can in turn prove a costly endeavor for the customer. FlexiSPY on the other hand lets you change devices for free and as many times as you wish during your subscription period.
Does TrackMyFone cause an increase in battery or data usage?
Below we compare the battery percentage over the course of a typical work day – from 9am until 5pm – with TrackMyFone installed versus TheTruthSpy removed. During the day, we are using our test device to make calls, send SMS messages and IM messages, browse the internet, watch YouTube videos and play games to simulate typical device use.

For monitoring the battery and RAM usage of TheTruthSpy, we used System Monitor Lite from the Play Store. For data usage, we used My Data Manager. TheTruthSpy is set to capture all data and upload it and GPS location every 5 minutes.

To measure how the device performed without TrackMyFone installed we monitored the battery usage, RAM and data usage of a typical Android application. In this case, we chose the default Weather application.

During testing, with TrackmyFone installed, it was immediately obvious that it was doing something that started to drain the resources of the device. Not only did the device become warm to the touch when you held it but you could also just see the location icon in the notification bar and the data transfer icon on all the time.

This meant that TrackMyFone was constantly communicating with the server to upload the data from the device that was taken during testing, such as images, videos, IM chats, GPS data and browsing information.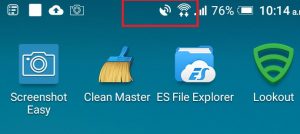 When it comes to battery life, TrackMyFone handles it well. With the software installed versus the software removed, we got the same amount of battery life out of the device. This is quite rare. Many spy apps drain the battery more when they are installed, versus when they are removed, because they are constantly capturing and uploading data to the online portal.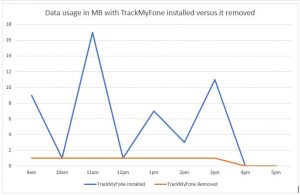 Unfortunately, for data usage, TrackMyFone causes a spike in data usage. This would be quite noticeable if the device owner has a limited data plan and we can see the data caps being quickly exceeded with TrackMyFone installed on a device. This immediately causes suspicions to the device owner, who will most likely factory reset the device, removing TrackMyFone. It also means that once again, TrackMyFone is not quite as hidden or discreet as the website and marketing blurb tells you.

In summary, TrackMyFone is not a battery hog, like other spy apps can be. But, where it perhaps matters most, uploading the captured data, it will cause a high than normal increase in data usage. That alone is enough to perhaps not recommend using TrackMyFone if you are worried about being found out.
Do TrackMyFone support staff really solve problems?
TrackMyFone has no presales support, whereas FlexiSPY offers both live chat and phone support for this. When it comes to technical support though, it is email only (support ticket) the same as FlexiSPY. We contacted the support staff several times and they responded within 24 hours each time.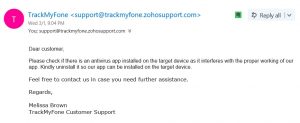 Their replies though were generic and lacked any real kind of personalization. We asked them why we could not download and install the software on to the device, before we solved it ourselves, because we wanted to see their response, and we were told it could be antivirus. Whilst this was the correct answer, it didn't help us at that specific time, which is why we figured out a way to install TrackMyFone, even with antivirus software installed.

We also contacted them before that to see why we had not received details on logging in to the online portal to get started. Their reply was to make sure that we had not blocked the email account or set it as junk. This was not particularly helpful to us either.

One thing that was quite alarming is that they answered our support ticket as a customer of theirs, even though we contacted them from an email address that was not the one we used to purchase the product.

And whilst we did include the software activation code in the subject title when we contacted them, they should have actually questioned us and asked us to contact them using the registered email address they have on their system, for customer security and verification. TrackMyFone doesn't do this, but FlexiSPY does. This means that, when it comes to support, FlexiSPY provides a more personalized support experience, even if they do not offer chat support for technical issues.
TrackMyFone Competitor Threat Level: 3 out 5
What version of TrackMyFone was tested?
Product Tested: TrackMyFone Android
Binary Version: 3.0.1
Binary Size: 3MB downloaded, 4MB installed
Phone: HTC Desire 816
OS: Android OS 6.0
The nearest equivalent FlexiSPY product is FlexiSPY Extreme priced at $199 USD for 3 months.