BREAKING NEWS: The StealthGenie Site Is Offline
It should be added that for the time being, StealthGenie have gone offline. If you're one of the purchasers of this software, and are unable to contact StealthGenie support, or couldn't get a StealthGenie refund, then we recommend that you head over to the FlexiSPY Trade In Program, where they will take StealthGenie off your hands.

In this review, we test StealthGenie spy app for Android. StealthGenie are newcomers to spy phone software and they are still working on trying to keep up with the main competitors in teams of features.

As we do with all our competitors, we tested StealthGenie's product to see if there was anything we could learn from them, while simultaneously sharing our test results with the public so that they could decide for themselves which spyphone software is the best suited for their needs.
Overall Comments And Competitive Threat Level
The following table shows our main notes, about how much of a competitive threat StealthGenie provide to FlexiSPY, with one star meaning that they can technically be ignored and five stars meaning that they could cause serious problems with our business.
StealthGenie Android SpyApp Test Summary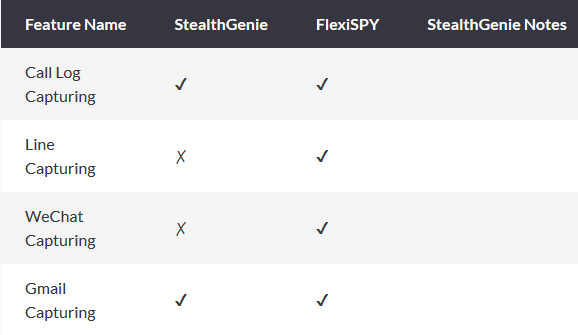 StealthGenie advertises 48 features for Android Platinum version on their web site, though we found some features did not work at all. Other features such as Intercept Call are advertised on the site but not actually available in any current version of the software.
Chat programs that require rooting for capture are WhatsApp (chats), Viber (calls and chats), and Skype (calls, chats and contacts).However no capture for Viber worked during our tests. Skype and WhatsApp chats were captured initially, but stopped reporting after a few hours. Skype Calls and Contacts were also never captured.

StealthGenie offers some options for remote controllability, either by the online Dashboard or SMS commands, however none of the SMS commands worked and Dashboard commands may be delayed in reaching the Target phone. Alerts that use SMS or Email also did not work. Throughout our StealthGenie review our tests indicated StealthGenie's impact on excess data was minimal, only around 17% of the total data transferred was attributed directly to SG's reporting operations.

Remote Deactivation is advertised, but still requires Support involvement in case you need to install onto another device. Location is captured but setting the Location timer is not reliable, tracking a path of travel does not work, and Geo-Fencing features also did not work. SG downsizes photos by 90% to save bandwidth and data, but also ignores any media file larger than 14.3 mb in size.

StealthGenie's battery use was more noticeable, up to 26% of a full charge and depleting the battery up to 2 hours earlier than usual. Some logs may be set to upload only when the phone is charging; during this time we recorded battery use as high as 46% depending on activities being captured.

Most logs are reported immediately into the online account, but several features never worked such as SIM Change Alerts, Call or SMS Alerts, or any Email/SMS notices we should have received for various "trigger" activities.
"StealthGenie advertises 48 features for Android Platinum version on their web site, though we found some features did not work at all."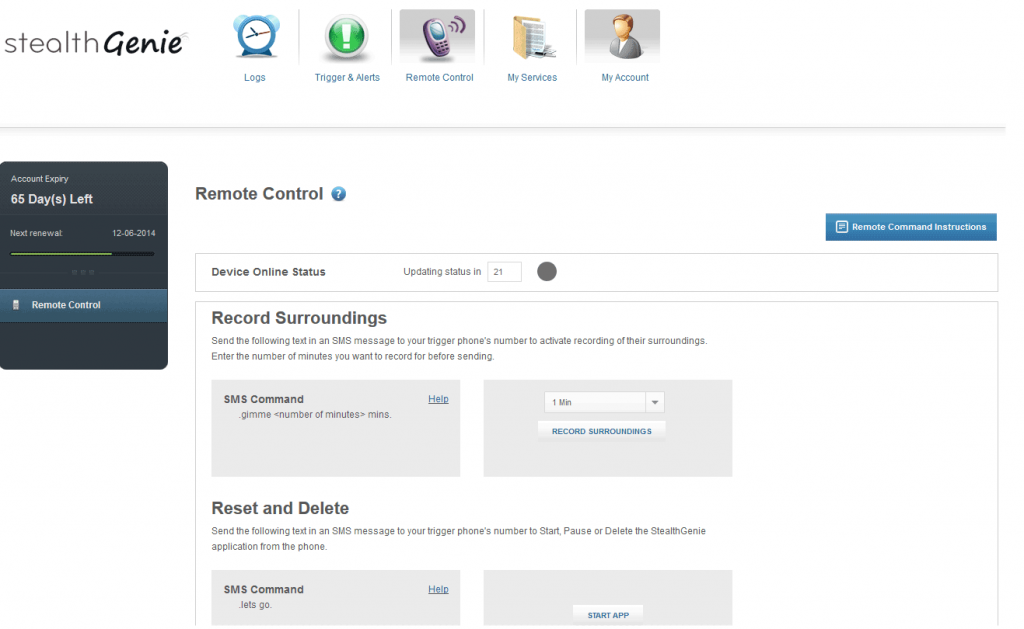 Putting the online dashboard through its paces for our StealthGenie review is important. All capturing options are enabled or disabled directly from the Dashboard and no settings are available from the application on the phone itself. SMS and Email alerts can be enabled for most types of logs, as well as special "Triggers" for these alerts.

However, neither SMS nor Email alerts worked at any time during our testing, nor was any solution offered by Support.

Some log types such as media files may also be configured to upload only when the phone is charging, to save battery use.

Searching logs can be difficult as it's not possible to search throughout all logs at once. To find all logs with a particular contact for example, you'll need to perform separate searches under each log menu for each type of log. Downloading suffers the same inconvenience, as we can only download one set of logs at a time. This means even if you download all of the data from each log menu, you must still perform multiple searches to find everything.
Can you remotely control StealthGenie without their phone?
Remote commands are used for recording the surrounding environment. We could only initiate this from the Dashboard, in increments of 1, 2, 3, 5 or 10 minutes at a time. Although Surround Recording initially had only a 50% success rate, further testing during a one week period produced 100% success rates. Recordings arrived in the Dashboard within 5 to 10 minutes of completion. Recordings can be played from directly inside the Dashboard or downloaded.

Some Dashboard commands worked while others did not.

Dashboard commands are also available for starting, stopping, pausing and remotely deleting the application from the phone.

Deleting the app remotely did not work.

Even when the Dashboard indicated the command had been received immediately, the app continued to capture and report data until physically uninstalled from the phone itself. StealthGenie also advertises a remote deactivation command, but this command does not actually exist. We asked Support for more information about this command but did not receive a response. There are also commands to backup data, wipe data, backup and wipe (single command), and to lock the phone.

These are the only SMS commands which are advertised as allowing you to create your own command text, although none of the SMS commands ever worked, including these. There is also a Dashboard option for sending these commands; however this is not implemented so these commands are visible in the menus but are not enabled.

Another remote function is SIM Change Alert. This should be a notification received by either SMS and/or Email. SMS notification failed as all other SMS alerts did. Shortly after first installing the application, we received a single SIM Change notification by Email, even though we had not changed the SIM card.

When we did change the SIM card multiple times during testing, we received no notifications at all.
Can you find StealthGenie on the phone once it is installed?
Lookout identifies the running process and gives a warning with the option to remove it. Zapper Task Killer and similar utilities may also kill or remove the process easily, once the process name is known and red-flagged to the Target user. This is true whether the phone is rooted or not.

SuperSU (installed with the rooting process) also gave random pop-up notices about the application's process being granted access to a secured shell. Even non-technical users will begin to wonder if something nefarious has been installed.
"StealthGenie's rooted version remains visible in exactly the same way as the non-rooted version does. Further, the latest version of Lookout Antivirus flagged it with popup notices as "surveillance-ware"."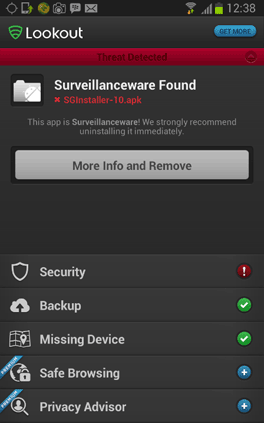 The process name is the only information needed to kill or remove it. The application is given a discreet name to appear as a system service in the Application Manager, and no icon is visible in the main app drawer.

However the application is clearly listed in the downloaded apps section, and may also be stopped or uninstalled from here in the same way any other program would. Device Administration privileges must be removed first, but this can be done easily.

While Device Administration is a good measure against the app being uninstalled by an average user, it's also a giveaway that the named service is not part of the default Android system.
This means even an experienced user will not likely find it. That kind of discretion is ideal for a stealth monitoring app.

The only benefit of rooting the phone for SG is that StealthGenie claims WhatsApp, Gmail, Skype and Viber can only be captured on rooted devices. However on our rooted device StealthGenie failed at all but one of its rooted-only features. We were able to capture text-only email from Gmail, but no html emails. Skype and WhatsApp messages were initially captured, but stopped after one hour and never continued. Skype Calls and Contacts were never captured, and neither were any Viber communications.
Does StealthGenie cause an increase in battery?
We used "Battery Monitor" and "Data Usage" to monitor these resources, both available from the Android Play store.

Over a ten day period, 212 megabytes or 17% of our total Internet data transferred was attributed directly to StealthGenie, excluding video and music captures. This number represents the total amount of data from our monthly data allowance, used purely by StealthGenie's reporting operations. Video and music cannot be compressed or downsized and files larger than 14 MB are not captured, so media less than 14 MB in size will add to this percentage based on the actual amount of media data being captured.

StealthGenie's battery use was up to 26% of a full charge at random samples, just under the "screen display" battery use. This rose to 46% at one point when uploading media while the phone was plugged in and charging (settings allow uploading chosen logs only during charging).

Routine capturing generally performed well, while many additional features including remote commands either didn't perform as expected, consistently failed or were not actually available as advertised. While many features technically worked, there are important discrepancies not initally made apparent.
SMS and Email Alerts never worked for us, and Support offered no solutions
Recording of Surroundings only works from the Dashboard
Non-Gmail Email capture never worked. Gmail capture requires a rooted phone, but HTML formatted Gmail was never captured
Contacts are generally reported within minutes. However if a Contact is edited, that Contact is not updated or recaptured.
Photos, music and video are captured from any location on the device, including non-standard folders that include non-related miscellaneous media from games and apps, ring tones and etc. Photos are downsized 90%, but may be uploaded multiple times.
Videos can be played directly from the Dashboard or downloaded, but when downloading the filename is changed into a string of numbers that make it impossible to know which videos you have already downloaded. As with other media, videos may be downloaded from any random location of the device, including the SD card and clips belonging to games and etc. There is also a 14 MB limit on any media file, so some HD videos taken with the camera will never be captured.
Geo-Tracking and Geo-Location are redundant log menus; both show same data but Geo-Tracking can't be disabled or deleted. Geo-Location timer can be set between 1 to 60 minutes, but the timer doesn't work. Location is always captured either every 15 minutes or every 30 minutes.
A Location tracking map is available, however it doesn't indicate any date or time for the path of travels. In fact, a date range can be selected for display but no matter what date range we enter, the path of travel displayed doesn't change.
Viber Messages and Calls failed to be captured and uploaded at all. Skype Messages initially uploaded but stopped after a few hours and never reported again. The same was true of WhatsApp capturing.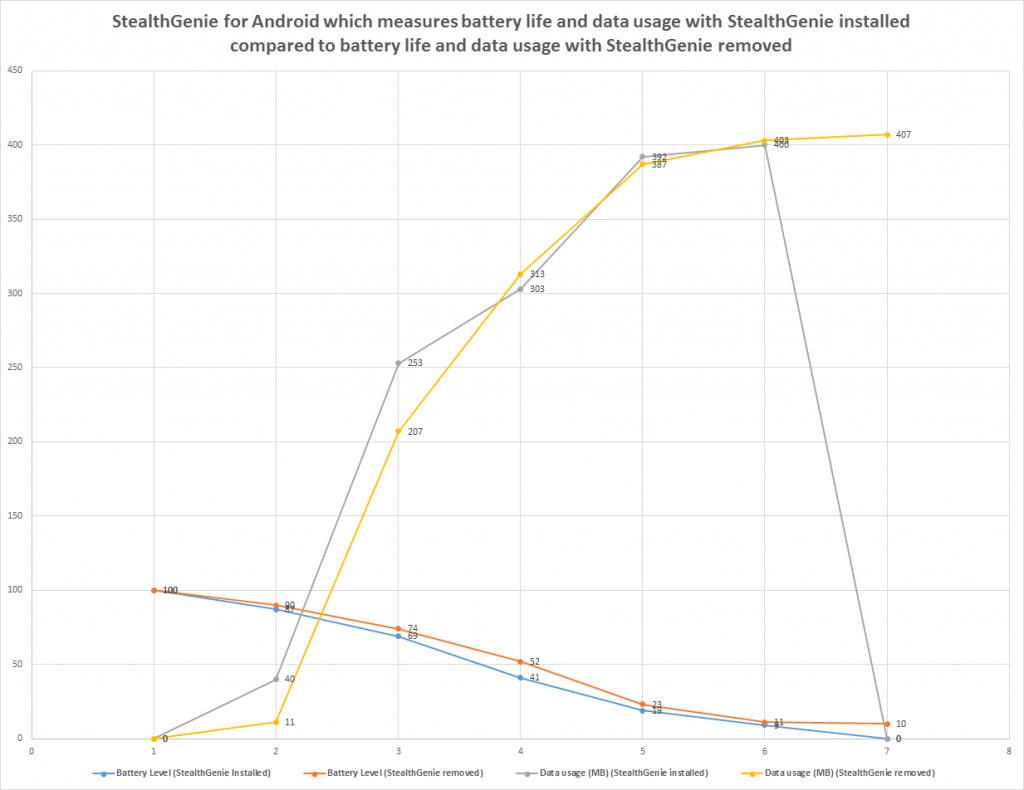 "StealthGenie's battery use was up to 26% of a full charge at random samples, just under the "screen display" battery use. This rose to 46% at one point when uploading media while the phone was plugged in and charging (settings allow uploading chosen logs only during charging)."
Do StealthGenie support staff really solve problems?
Support is provided by Live Chat or email tickets. Tickets often went unanswered and live chat staff seemed overloaded, or simply non-responsive. We sometimes waited up to 15 minutes for a single reply. When asking for help with features not working, we were told on two occasions our chat would be escalated and a reply sent by email within 24 hours.

However we never received any email and were never given a ticket number.

We also submitted email Tickets directly on multiple occasions which were never replied to. StealthGenie advertises a remote deactivation feature, yet we cannot deactivate without contacting Support first to request it. Moving the software to a different phone also requires intervention by Support. After uninstalling, we also could not reinstall on the same phone again until contacting Support. Several features are not explained with documentation. We were consistently told in chat to expect a response by email, but no responses came.

When giving exact details over two specific problems, we were simply told "that's impossible", with no further support offered. Support was apparently in denial or did not understand the software they are supporting. When asked if something is supported we were told yes.

When stating that it doesn't work, Support backtracked and said it's not supported. When asking about advertised features that are apparently not offered, the staff defaulted to escalating our ticket, which was rarely replied to.

When we asked for help with rooting the phone, we were given a link to an academic Wikipedia article which doesn't provide any rooting help. Ultimately Support never offered any solutions to the problems we reported, and wasted hours of our time online.
At $199.99 for a year of SG's Premium service, FlexiSPY's Premium 1 year service is about $50 less and offers numerous additional features – all of them working.
Although basic capture and reporting did work, many of the StealthGenie advanced features were either unreliable or failed to work at all during our review.

The application itself is also easy to find in the same area with other downloaded apps, and therefore easy to remove. Many remote commands did not work, including all SMS commands. SMS and Email alerts also failed, and Support was unable to resolve any of these issues.

Excluding the Instant Messaging capturing limitations, based on all that was discovered in this StealthGenie review we believe that they represent a medium level competitive threat to FlexiSPY due to the fact that their working features functioned as advertised, albeit at a higher price point.
StealthGenie Competitor Threat Level: 2 out of 5
What version of StealthGenie was tested?
Product Tested: StealthGenie Platinum for Android
Binary Version: 1.2.2
Binary Size: 286kb
Phone: Google Nexus 4
Phone OS: Android (Rooted)
Phone OS Version: 4.2.2
The nearest equivalent FlexiSPY product is FlexiSPY Premium priced at $149 USD.
Read our full review to learn more about StealthGenie for Android