In this review, we test OwnSpy spy app for Android. OwnSpy are the newest to the market when it comes to spy phone software and seem to offer the least amount of features. As we do with all our competitors, we tested Ownspy's product to see if there was anything we could learn from them, while simultaneously sharing our test results with the public so that they could decide for themselves which spyphone software is the best suited for their needs.
Overall Comments And Competitive Threat Level
The following table shows our main notes, about how much of a competitive threat OwnSpy provide to FlexiSPY, with one star meaning that they can technically be ignored and five stars meaning that they could cause serious problems with our business.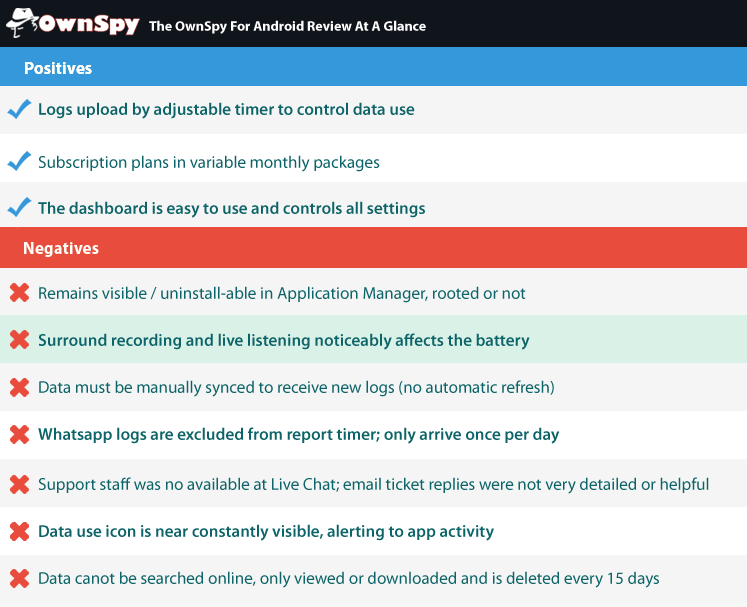 OwnSpy Android SpyApp Test Summary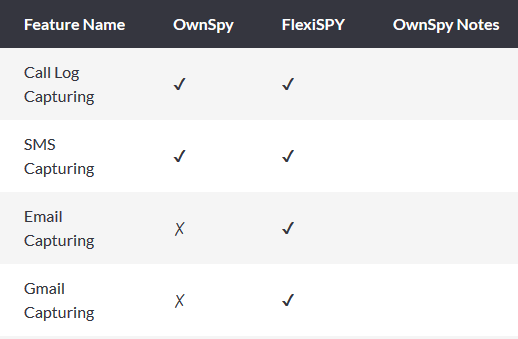 OwnSpy supports Android and iPhone versions in three feature sets; Basic, Premium and Gold. The software is a subscription based service purchased in one, three, six or twelve month periods. The Gold version lacks Call Interception and many standard features found in FlexiSPY Premium, although it does include Call Recording which is found in FlexiSPY Extreme. All other features in our spyphone review of OwnSpy Gold for Android can be found in FlexiSPY Premium. OwnSpy lists a total of 9 features for its Premium version and 10 for the Gold version.
"Because of this limited feature set it is hard to make a direct comparison with any FlexiSPY product."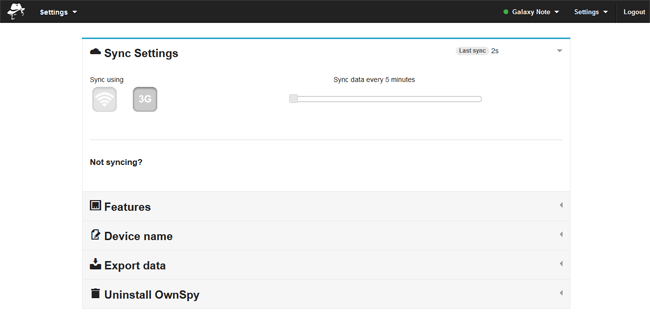 This creates a variety of pricing plans between €9.99 for One Month of Basic service to €229.99 for One Year of Gold service. Pricing in dollars is not advertised, so you would need to check exchange rates. All settings are made from the online Dashboard, which also presents a graphical overview of general statistics such as the most commonly called phone number, web sites most visited, etc. This is a way of seeing the most frequent activity and communications at a glance. Logs are shown as "stats" which are accessible via drop down menus, as opposed to more typical menu bars. Capturing can be turned on or off individually for each feature in the Dashboard. 3G or WiFi can be selected as the connection type, but this setting is universal for all features. A timer can be set for how often the phone should connect to upload data, and a dashboard timer also confirms how long it's been since the last connection has occurred. In this way you can see if there are any connection problems, or if the phone is not connecting when it should. Data can also be downloaded in .xls format which is organized in multiple tabs, and any pictures or media is included in the download as a zipped file. All data is deleted from the online account every 15 days, so downloading regularly is important. Inconvenient is that new logs are not automatically refreshed, even when logging into the Dashboard account. To check for new logs requires manually syncing the dashboard logs with the server, and this was not initially evident. This is the case whether new logs have already been reported since the last manual sync or not. Location tracking is well organized and it is easy to navigate routes of travel from several days' worth of data. Location information also includes speed of travel if in motion, and conveniently shows the relative accuracy of a given reading. Multiple target phones may be monitored from the same account Dashboard, and subscription renewals can also be made from inside the account Dashboard.
Can you remotely control OwnSpy without their phone?
After installing the software onto the Target phone, all settings and remote changes are made from the online Dashboard. From here individual features may be turned on or off, remote listening can be initiated, the connection timer and connection method can be set (3G or WiFi), logs can be manually synced and the data can be downloaded. There is also an option to remotely uninstall the software from the Dashboard.
Can you find OwnSpy on the phone once it is installed?
Stealth refers to the ability of an application to run without drawing attention to itself, or becoming noticeable in any way. Attention can be drawn explicitly such as displaying an icon or appearing in a task manager, or implicitly by affecting performance such as draining the battery, excessive use of data from the service plan, or any other non-discreet operational issues. Generally, one reason stealth apps may require rooting is to gain additional security permissions, which allow that app to be fully hidden. Root permissions also allow such software to stay under the radar of antivirus type software. Another reason is to offer advanced features that only root level permissions can support. OwnSpy does not offer any root-only features, and does not utilize a rooted option to operate in fully hidden, stealth mode.
"Lookout Antivirus did not red flag the OwnSpy software, although we did not test with other antivirus products."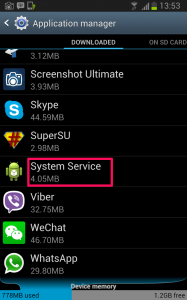 The OwnSpy icon itself is hidden from the main app drawer, so this will not be seen. However the app does show up with a discreetly given false name, listed in the Application Manager with all other installed apps. From here the OwnSpy app may be easily uninstalled. Process and task managers such as Zapper Task Killer (and others) will also list the running process, allowing it to be stopped or uninstalled.
Does OwnSpy cause an increase in battery?
We used "Battery Monitor" and "Data Usage" to monitor these resources, both available from the Android Play store. We ran a series of usage tests during a set period of time, which included typical activities most people carry out on a smartphone. Although live listening (ambient or environment surroundings) is offered, this is done differently than other products we've seen. With OwnSpy you cannot schedule when to record the surrounding, it can only be monitored (and recorded) live. This would be similar to FlexiSPY's SpyCall, except that it's not a phone call which is made to the Target. Instead, live listening must be initiated manually from the Dashboard account only, and depends heavily upon a stable Internet connection from both the Target phone and also the monitoring computer. OwnSpy then opens an audio streaming connection between the phone and server, which you can listen to through the Dashboard live. These streaming connections are also recorded as .mp3 audio files which are saved in the Dashboard after listening. The recorded audio files cannot be played directly from the Dashboard but they can be downloaded. There are some drawbacks to this system. Streaming can only be accomplished when a fairly good Internet connection is maintained from the Target phone, and also at the computer you're logged into. This connection often drops momentarily as well, causing the stream to pause at times. These missing parts cannot be recovered. Listening longer than 20 minutes at a time always failed for us, with nothing recorded afterwards.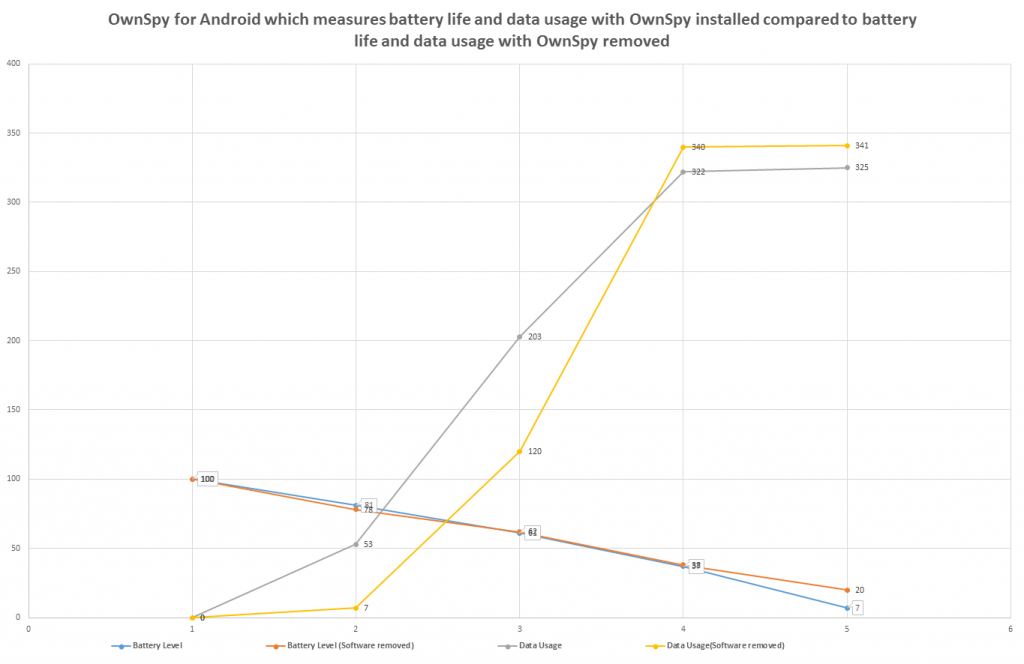 In part of our testing we looked at data use of live audio streaming, and file size of these recordings. File size of recorded audio streams less than 20 minutes long is between 300 – 400 kb per minute.
"We found that when recording beyond 20 minutes, the files were never saved in the Dashboard logs.."
Starting with the battery at 100%, we performed regular and routine operations on the Target phone, including log triggers which would generate OwnSpy capturing activity. Functions included making phone calls, browsing the web, streaming YouTube video, chatting IM and taking pictures. From this we determine that battery consumption is not a major issue for OwnSpy. Data use was measured during the same period we monitored battery use, from the variety of internet use and OwnSpy tracking functions we performed. During heightened periods of OwnSpy tracking activity, we noticed a jump in data use which was expected, but within acceptable amounts for the data being captured. Transferring pictures for example, would increase the amount of data used by at least as much as the combined file sizes of all pictures taken (all pictures were captured and uploaded). Any excessive data used by OwnSpy would be due to frequency of pictures taken by the camera when photo capturing is on, combined with your use of live audio streaming. OwnSpy does not appear to consume much excess data on its own, outside of these conditions.
Do OwnSpy support staff really solve problems?
Support is promoted via Live Chat and Email tickets, although we found that Live Chat is not always available. Email ticket replies came back in roughly 24 hours. We contacted Support to ask why the 3G connection showed near constant activity, why we were not receiving any new uploads during one point in our testing, and also to request help with audio live recording over 20 minutes in length.
Our Email Ticket reply came back the next day but did not address the live audio recording issue.
Our other two issues were addressed, and partially resolved. We were told nothing could be done about the 3G activity displayed on the icon (no explanation of why it is consistently active). We were also told the reason we did not receive new uploads was because our license had suddenly expired, even though our subscription was still valid. This was not due to any setting or changes we had made to the account, but an internal software problem. Support advised us to get the Target phone back into our hands to physically uninstall the software, and then reinstall the software to reset our license on the server. It is often difficult to physically get the Target phone and install the software in the first place. Needing to get it back a second time to reinstall is not an option that all customers may easily have. In summary as a spyphone OwnSpy may look tempting due to not requiring rooting and the low price point for their entry level version but it simply does not have a strong enough feature set compared to either FlexiSPY Premium or Extreme.
OwnSpy Competitor Threat Level: 1 out of 5
What version of OwnSpy was tested?
Product Tested: OwnSpy Gold for Android Binary Version: 1.1D Binary Size: 479kb Phone: Google Nexus 4 Phone OS: Android (Rooted) Phone OS Version: 4.2.2 The nearest equivalent FlexiSPY product is FlexiSPY Premium priced at $149 USD.