Executive Summary
Mission
TheOneSpy creates and sell parental monitoring applications for iPhone and Android, with over 100+ features to allow parents to monitor their children or employers to monitor their employees.
Services
TheOneSpy offers mobile monitoring for tablets and smartphones for the iOS and Android platforms.
Target Market
The target market for TheOneSpy are parents who want to monitor their teenager's smartphone use or employers who want to track their employee's smartphone usage in the workplace.
Competitive Advantages
Offering over 100+ features TheOneSpy offers basic phone monitoring features such as call log capturing, SMS capturing, GPS capturing and browser history but it also provides advanced features such as call recording, ambient recording and remote device locking and wiping, alongside remote app blocking.
Pros
It was impressive that TheOneSpy was not detected by antivirus and that the app can be easily installed using something such as a QR code. For the price offered there is a great range of features on offer too.
Cons
You'll need a rooted device to get access to the best features. Of all the best features, call recording did not work and many features advertised on the website you don't get. When contacted, TheOneSpy support staff did not really offer deep enough technical knowledge of the product.
Overall Opinion
If you can forgive features missing and the fact that call recording also does not work then, for the price given, TheOneSpy offers value for money for the features given, even if you do not entirely get the 100+ features advertised on the websites.
Rating: 3 out of 5
Installation Summary
When you install spy phone software there are two things that are important. First is whether the software is detected as antivirus during any stage of the installation process and the second is if the software leaves any traces of itself behind after you install, such as failing to clear the browser history or delete the installation APK file.

On our Android device, which is rooted, we have Lookout and Clean Master installed. So far, no spy phone software we have tested can completely remain undetected from one or both applications. Some spy phone products, like XNSpy and TrackMyFone, fail to install if antivirus is also installed on the device at the same time, this is a supposed deterrent to avoid the software from obviously being discovered. Otherwise, why block the installation on a device with antivirus installed if you did not have something to hide?

As soon as you log into the online portal for TheOneSpy, you simply click the link to the installation instructions to start the install process. What was interesting was that the instructions seemed to say that the software was only for rooted devices. It was nice to see an installation video to help us as well, this is something we have not yet seen in from other spyphone companies.

The installation process is the same for any other spyphone software. Just download the software, install it and activate it using the activation key shown inside the online portal.

The entire installation process is quick enough, if the device has been rooted first. We estimate it took us no longer than five minutes to get the software up and running. What is interesting though is that TheOneSpy doesn't offer help with rooting the same way that FlexiSPY or Mspy does. So, if you are unsure or unfamiliar with rooting you may want to research whether the device can be rooted before you purchase TheOneSpy.

TheOneSpy even allows you to install by QR code. No other spyphone software allows for this and it helps make the software a little easier to install. Except, as with TrackMyFone and XNSpy, because our device has antivirus software installed we must uninstall that first so that we can install TheOneSpy. If you try to install it with antivirus installed it will fail.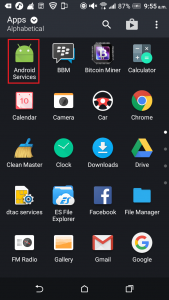 With TheOneSpy installed successfully, you simply enter your license key to activate it and then grant it root permissions from SuperSU to get all root features. As soon as you do that you must grant permissions eight times to allow TheOneSpy to track everything.

What is interesting though is that it does not automatically delete the browser history or the installation APK file. This is quite lazy in all honesty and if time is of the essence, and you do not have that much time with the device to install TheOneSpy, then you would expect TheOneSpy to hide all traces of itself for you. But it doesn't. Immediately then there is a real chance that TheOneSpy can be found on the device in less than 24 hours of installing it.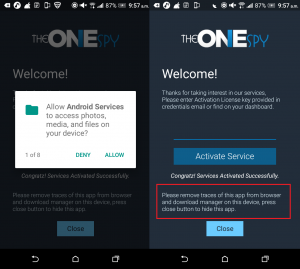 After you have activated TheOneSpy it installs itself as a Device Administrator to make it harder to uninstall. Once you activate that it also asks for yet more access and it is in this menu that the device owner may check and see something is not right and try to uninstall the software, which they can't resulting in a factory reset.

The idea is that the software, discrete name or not, is not listed at all in any menu that the device owner can notice it.

The final step is to hide the application, if you wish to. After hiding it, we scanned the device using Lookout and something interesting happened. Lookout said that Android Services (TheOneSpy) was a safe application.

Even with the icon hidden, we ran Clean Master and whilst that detected that the app was safe it allowed us to access TheOneSpy through the Clean Master application. That means that it is only hiding the icon, you can still find the application if you try hard enough.

Even if you unhide the icon and run the antivirus programs again, it still flags the software as being a safe application. This means that TheOneSpy is one of the only spyphone products to not get detected and removed by antivirus after installation.
Features
TheOneSpy an impressive total of 35 features. It offers a few unique features, such as remote video recordings which nobody else offers, and it also allows you to remotely lock or wipe the device or block applications or calls.

However, not all the 35 features work, or they worked, but only under certain conditions. Below you can see the features that did not entirely work for us during testing.
| Feature | Did It Work? |
| --- | --- |
| Remote Video Recording | X |
| Record Calls | Recorded calls had no sound |
| Keylogger | Worked successfully, but captured data is hard to understand |
| SMS Messages | ✓ |
| MMS Messages | ✓ |
| Contacts | ✓ |
| VoIP Call Logs | ✓ |
| Microphone Bugging | ✓ |
| Live Pictures | Option did not work in portal |
| GPS Tracking | X |
| Emails | Supports the Chrome browser only |
| Images | ✓ |
| Installed Apps | ✓ |
| Screenshots | X |
| Browser History | Supports the Chrome browser only |
| Browser Bookmarks | Supports the Chrome browser only |
| Appointments | ✓ |
| WhatsApp | ✓ |
| Skype | ✓ |
| Viber | ✓ |
| LINE | ✓ |
| Snapchat | Advertised on website but not shown in portal |
| Facebook Messenger | ✓ |
| Yahoo Messenger | ✓ |
| Kik Messenger | ✓ |
| Instagram | X |
| Vine | X |
| Tinder | ✓ |
| Hike | ✓ |
| Hangouts | ✓ |
| Tumblr | X |
| Imo | X |
| Zalo | X |
| Telegram | ✓ |
| SIM change notification | ✓ |
When it comes to features TheOneSpy is a mixed bag. The features that we really wanted, such as remote video recording, never actually worked. Call recording also did not work, even though the call was recorded, we had no audio which meant that it is useless for us.

The Keylogger feature, which also interested us, works, but it takes time to upload the captured keystrokes and they are not formatted either which means you just get a long line of words with no formatting. This makes it hard to understand what they really typed and when it took place.

Furthermore, installing the Keylogger replaces the default Android keyboard and only works in English languages. Immediately then, because the keyboard used by TheOneSpy is so different to the stock keyboard already installed on our device, we immediately know that something has changed significantly on the device. That alone is enough for the device owner to know that not everything is quite right with their device now that TheOneSpy has been installed on it.

Surprisingly enough, basic features like GPS tracking failed to work. Even after restarting the device no location tracking data was uploaded. TheOneSpy also has features on the website that are advertised but not given, such as remote device locking, and in the portal, they have features that are no longer offered on the website, such as Snapchat capturing.

Another strange thing is that inside the online portal, where you can turn features on or off, there is no way to turn off many of the supported IM services. By this we mean that you can turn off Skype, Viber or WhatsApp or Facebook, but you cannot turn off any other IM service, such as Tinder or Instagram.

We contacted the support team about this and the results of this can be found in the support section later in this review. As it stands then, whilst TheOneSpy offers call recording it doesn't work and it falls on certain basic features too with many other features failing to work.
Performance
Below we compare the battery percentage over the course of a typical work day – from 9am until 5pm – with TheOneSpy installed versus TheOneSpy removed. During the day, we are using our test device to make calls, send SMS messages and IM messages, browse the internet, watch YouTube videos and play games to simulate typical device use.

For monitoring the battery and RAM usage of TheOneSpy, we used System Monitor Lite from the Play Store. For data usage, we used My Data Manager. TheOneSpy is set to capture all data and upload it and GPS location every 5 minutes.

To measure how the device performed without TheOneSpy installed we monitored the battery usage, RAM and data usage of a typical Android application. In this case, we chose the default Weather application.

With TheOneSpy installed the software didn't even last six hours. The battery dropped significantly and the RAM usage was always high. The data used though was not that much, although we noticed that the device was constantly sending data because both the data upload and download notification and the GPS location connection notification were both nearly always constantly on.

So, it seems like TheOneSpy tries to keep the connections of these open always to ensure that data is uploaded in a timely manner. But this drains the device resources and so the battery drains quicker than normal.

During testing, we noticed however that the software would sometimes routinely crash on our device. This meant that we had to restart the device quite frequently as well for the software to refresh itself and start capturing again.

Obviously, if the device owner sees a message saying that a piece of software keeps crashing (TheOneSpy) they will get suspicious and investigate. When they find that it cannot be uninstalled (because it is install itself as a device administrator) then they will most likely factory reset the phone.

With TheOneSpy removed, as you would expect, the device lasted longer, but not by all that much. Data consumption was obviously much lower and the amount of RAM consumed was up to 50% less than with TheOneSpy installed. Obviously, you can change the capture settings of TheOneSpy but, even on the default settings, the software will cause noticeable increases in battery use.

This leads to battery drain, and RAM usage. This means that, for some devices, with TheOneSpy installed, the device may even start to run warm. When that happens the device owner will immediately get suspicious.
Support
TheOneSpy offers technical support via email as support tickets. They replied to us within 24 hours of submitting a support request from them. We contacted them because we saw a notice inside the online portal saying that support had to be contacted to turn off TheOneSpy auto-renewal.

When we contacted the support team about this they said that it was not an automatic renewing product so either TheOneSpy stopped offering automatic renewals and forgot to update their FAQ or their support staff don't really know the product that they are supporting.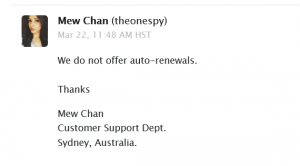 Furthermore, when we asked the same support member why it was not possible to disable IM capturing from an IM service not listed in the Settings menu (e.g. Instagram) the reply was that they did not know and would check with the technical team.

Lastly, when we asked them how to unhide the software icon that we had hidden during installation, giving our license key for reference, the same support staff member said that they did not know what we were asking. This does not leave us with a good impressing of the support team, especially seeing as the support team is listed as being based in Australia of all places.

TheOneSpy also does not offer telephone support or any support or help with rooting/jailbreaking or installing the software. All the offer customers are the same outdated FAQ inside the online portal (and we have proven it is outdated based upon our auto-renewal question) and submitting support tickets. When it comes to quality of support then, TheOneSpy is one of the worst we have encountered from reviewing
Want To See More Cell Phone Monitoring Software Reviews?
If you have any questions or comments about the best phone monitoring app - or if you want to see additional cell phone monitoring software reviews - let us know in the comments below. 

Need more information? The FlexiSPY LABS team is happy to help. Contact Us today!