In this review, we test Mobile Spy spy app for Android. Mobile Spy are one of the longest running companies who create spy phone software.

As we do with all our competitors, we tested Mobile Spy's product to see if there was anything we could learn from them, while simultaneously sharing our test results with the public so that they could decide for themselves which spyphone software is the best suited for their needs.
Overall Comments And Competitive Threat Level
The following table shows our main notes, about how much of a competitive threat Mobile Spy provide to FlexiSPY, with one star meaning that they can technically be ignored and five stars meaning that they could cause serious problems with our business.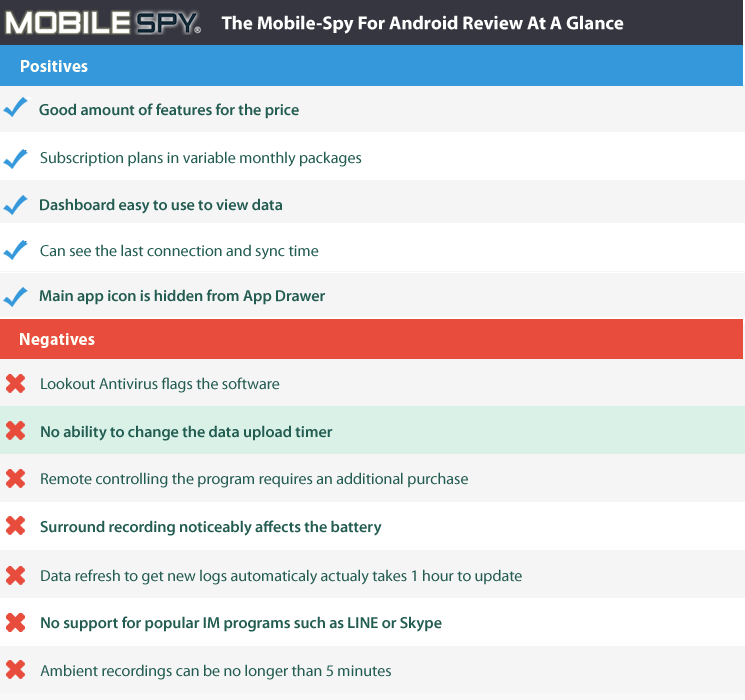 Mobile Spy Android SpyApp Test Summary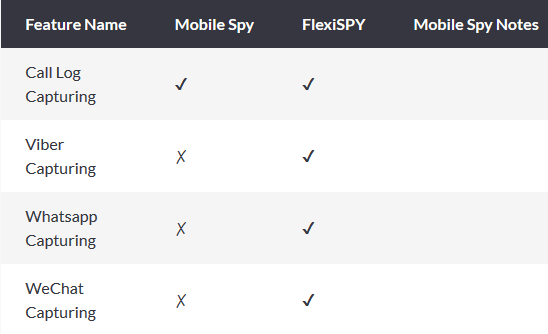 Mobile Spy offers software in 3, 6 and 12 month subscription packages and supports all major smartphones and tablets. They offer a total of 23 main features as well as an additional live-panel module which is a paid extra upon the price of the original subscription. Out of the 23 main feature we found that all worked as described with the exception of GPS tracking which worked but failed to display any kind of map inside the online account for you to visualise where the phone is.
Instant Messaging programs such as Facebook and Whatsapp require the Target device to be rooted first. In terms of how Mobile Spy rates on features it was a solid effort with all features that were tested working. However not all worked to a satisfactory enough level except for GPS tracking which failed to work and displayed no map on the online account either. Either way the main features require either root access first or the purchase of an additional live-panel add-on first.
"Facebook IM capturing as well as Whatsapp is limited to text only with no additional features such as stickers or attached images being captured."
Can you remotely control Mobile Spy without their phone?
Remote Control Features include:
Record surroundings
Stealth camera
Get current location
Initiate call from device
Send text from device
Get device info
Lock device
Unlock device
Start/Stop Alarm
Email all text logs
Email all call logs
Email all contact logs
If you want to know if you can remotely control Mobile Spy after purchase the answer is no. If you want complete remote control over the target device such as being able to get the GPS location on demand or enable or disable features remotely then you have to pay extra. The live-panel does have a few tricks up its sleeve though to, on paper, justify the extra payment such as being able to see the device screen in realtime from your online account.

If you do not purchase this add-on then there is no remote way to configure the software or change settings and instead you have to simply wait for data to be uploaded on the default settings.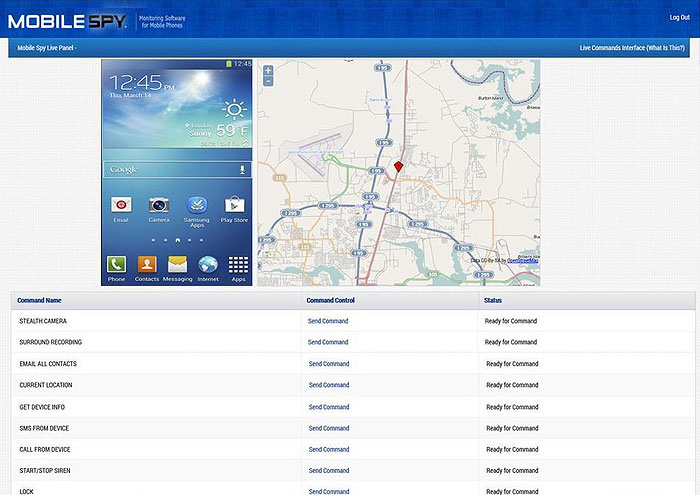 When competitors offer remote control functionality out the box having to pay extra for it as Mobile Spy makes you feels a little cheap even if the live panel add-on is a quite low cost.

In reality though this feature alone eats up data on the Target device and is not quite in realtime as Mobile Spy want you to believe and often gets stuck on one image for several minutes at a time before refreshing which means you may have missed something important happening. This is not ideal and explains why Mobile Spy are the only ones offering this feature, it sounds great in theory but in practice it leaves a lot to be desired.
Two unique remote features for Mobile Spy include sending an SMS from the device to any other recipient along with initiating a call from the Target device to a recipient of your choice. Both of these worked well as did the stealth camera option and the ability to remotely record the surrounding audio but we still do not feel that you should have to pay for it.
Can you find Mobile Spy on the phone once it is installed?
This is the most important section for many people. Forget the features and the price, is the software really hidden after installation? There are many different ways that an application can be uncovered.

These include being detected by antivirus software,notifications from SuperSu on a rooted device to being visible in the Android Manage Applications list. Mobile Spy ticks all these boxes and can be found through all the methods just described.

On a rooted device Mobile Spy's stealth capabilities improve slightly with no application being visible on the application menu itself but it is still listed under the Manage Applications list. That, along with frequent notices from SuperSU that a program has been granted root permissions all the time will immediately notify the device owner that something has been installed.

Mobile Spy tries to combat uninstallation by installing the program using a device administrator account that it adds during installation. This is similar to Mspy which uses the same feature. However this can still be circumvented as you can simply go to the list of device administrators, remove the one Mobile Spy installs and then the software can be easily removed using the manage applications menu which is the same method as all other software we have already reviewed.
"Mobile Spy (known as SIM Toolkit) was detected on our rooted device using Lookout Mobile Security and it is classed as Surveillance.Android.Mobile Spy.b which refers to Mobile Spy immediately."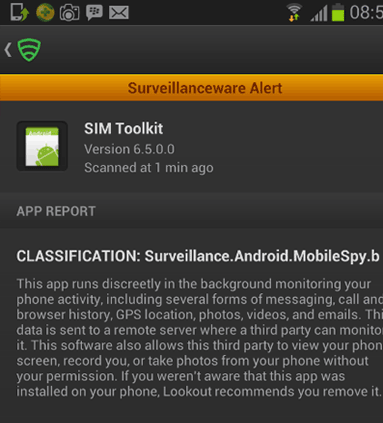 It is known as 'surveillanceware' and you can simply close or uninstall it through Lookout making Mobile Spy unusable. So far all of the products we have reviewed have been found and detected by Lookout Antivirus with only FlexiSPY being classed as no threat and being fully stealth on a rooted or unrooted Android device.
Does Mobile Spy cause an increase in battery?
We used "Battery Monitor" and "Data Usage" to monitor these resources, both available from the Android Play store.
We ran a series of usage tests during a set period of time, which included typical activities most people carry out on a smartphone.

This consisted of phone calls, web browsing, sending and receiving IM's, streaming video, taking pictures and creating videos. We tracked the same use over the same duration of time both with and without Mspy installed.

We first tested battery usage by installing Mobile Spy and having periods of low usage followed by periods of intense usage to see how well Mobile Spy captured data and how that affected battery life and data usage.

We performed the same set of tests individually for battery life and data usage and we found that with Mobile Spy installed our device lasted less than five hours after a full charge. During this time nearly 400MB of data was generated by the software, especially during peak usage times and high activity such as taking picture and videos or viewing YouTube.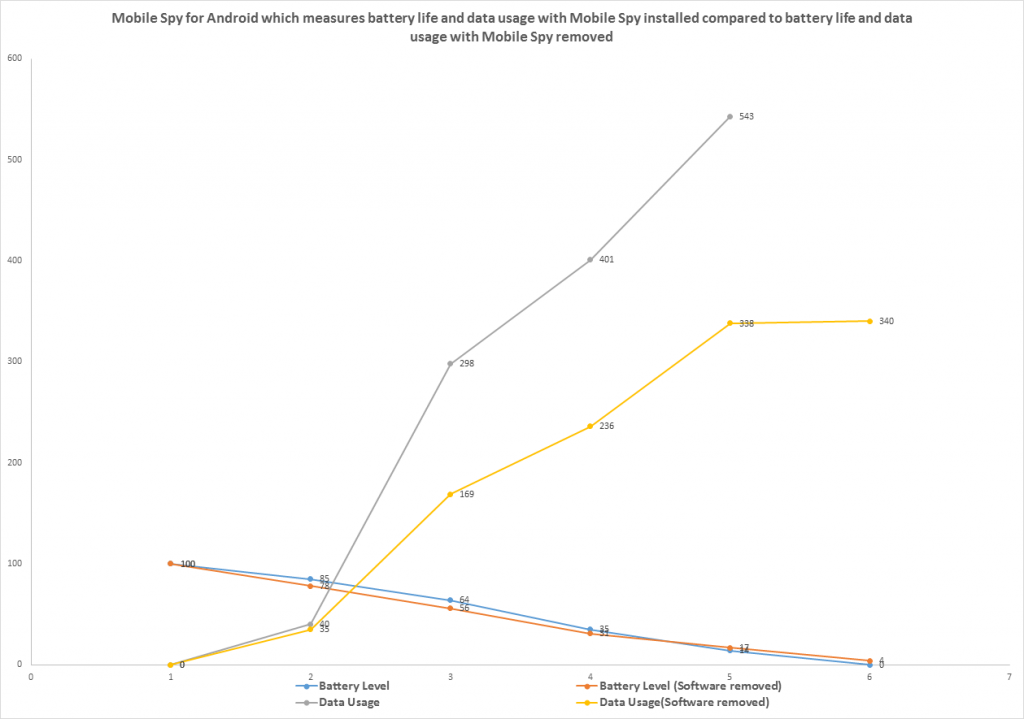 During our tests we also monitored how long it took Mobile Spy to upload videos to our online account to see if this accounted for increased data usage and the results were surprising. As we suspected the larger the video size to upload the longer it took and the more data was used. This is because Mobile Spy uploads all videos created in HD format as standard and whilst this means you get the best viewing quality possible inside your online account this choice in quality can affect both upload time and data usage.
"When you compare data usage there is a 50% increase compared to Mobile Spy installed against it being removed."
This means that there is roughly a 50% increase in overall data usage with Mobile Spy and if the Target phone owner has a capped internet limit per month or per week and this is exceeded quicker than usual then this will naturally arouse suspicion in the device owner which is not what you want with this kind of software.
Do Mobile Spy support staff really solve problems?
Mobile Spy offer support via livechat and support tickets the same as their competitors. We contacted them about issues with GPS location data not being uploaded and we were given a generic response to simply turn the feature off and on again. We then decided, to get a more personal and somewhat more technical response to submit a support ticket.
We had to wait for 24 hours to get a response but we were given a more thorough and technical response which solved our issue.
We noticed that we spoke to two different representatives, one for each support system, it could be that they do not give technical support over Livechat (only FlexiSPY really do this) or it may be that there support staff are not as well trained or knowledgeable in the product they are supporting compared to their competitors (again, for this, FlexiSPY comes out on top).

Our experience with Mobile Spy support staff leads us to believe that they prefer to deal with technical issues via tickets instead of over Livechat. We understand this completely as you get a more personal response and it can be used to answer the more technical kinds of support questions but your average customers wants help now and so being given lacklustre help over livesupport will not leave a good impression upon the customer about Mobile Spy even if the software itself is functional.
Mobile Spy Competitor Threat Level: 2 out of 5
What version of Mobile Spy was tested?
Product Tested: Mobile Spy for Android
Binary Version: 2.0
Binary Size: 6MB
Phone: Google Nexus 4
Phone OS: Android (Rooted)
Phone OS Version: 4.2.2
The nearest equivalent FlexiSPY product is FlexiSPY Premium priced at $149 USD.
Read our full review to learn more about Mobile Spy for Android