Facebook must have seen something in Whatsapp when it decided to recently acquire it. Spy phone software manufacturers also see the power of Whatsapp which is why, usually, any spy phone software that advertises IM capturing should really have Whatsapp as one of the supported IM services.

Unless the spy phone software happens to be Mobistealth. Mobistealth are not alone in not supporting Whatsapp IM capturing but they are alone by choosing not to support any IM capture in any way.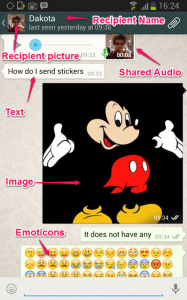 This puts Mobistealth at an immediate disadvantage when compared with FlexiSPY in comparisons involving IM capturing and different IM services. This means that we already know that FlexiSPY provides a better IM capturing experience than Mobistealth because FlexiSPY capture a total of 13 IM services in total (8 of which are for Android and include Whatsapp) and Mobistealth or any other spy phone software have no reply to this.

Hopefully Mobistealth will add IM capturing features soon but for now, now that we know only FlexiSPY captures Whatsapp we will look at just how well FlexiSPY captures Whatsapp.
FlexiSPY captures all the information you want to see from Whatsapp
When capturing IM conversations from Whatsapp or any other IM service it important that the reader of the captured IM data can understand what they are seeing.

By this it is meant that the data inside the online account must be easy to absorb and understand and that the data captured must also capture and convey the entire information and feeling and emotion of the actual IM conversation itself.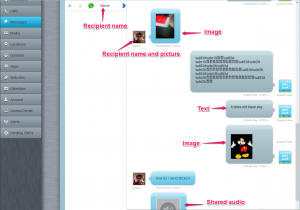 It is not good if the captured IM data is left open to interpretation because details such as shared media (pictures, images, videos etc.) are not captured presenting gaps in the conversation or that the captured IM messages are displayed in the online account in a way that makes them hard to interpret.
All of this is understood and fixed by FlexiSPY. FlexiSPY captures not only the text of the captured Whatsapp IM conversation but also the shared rich media as well. This means that you can see all that was sent between the conversation participants, after all a picture or sticker can often say much more than just text.

FlexiSPY's online account also displays the captured IM text and shared rich media in conversation view which means that it looks as close as possible to how it looked on the phone when it was captured. This means that, with FlexiSPY, you can see all of the captured Whatsapp IM conversations, see all the shared rich media and even save the shared rich media to your computer from inside the FlexiSPY online account for further analysis later.

Ultimately FlexiSPY offers far superior Whatsapp IM capturing when compared against Mobistealth who offer no IM capturing at all.
FlexiSPY gives you the Whatsapp IM conversation information you need
The evidence here speaks for itself.

Comparing Mobistealth to FlexiSPY for Whatsapp IM capturing shows just how much of a difference there is between these two spy phone products. As you have seen FlexiSPY successfully captures Whatsapp IM conversations but it also goes much further than that by making them easy to understand and interpret and by capturing the shared rich media as well.

This means that FlexiSPY is the best spy phone software if you are looking to spy on Whatsapp or any other support IM service. On the other hand Mobistealth should hopefully add IM capturing to their feature line-up soon otherwise they will may soon be irrelevant when comparing spy phone software.

To see why FlexiSPY offers the best features and compatibility for IM capturing take a look at the table below which shows which IM services are captured by FlexiSPY on which platforms versus that captured by competitors.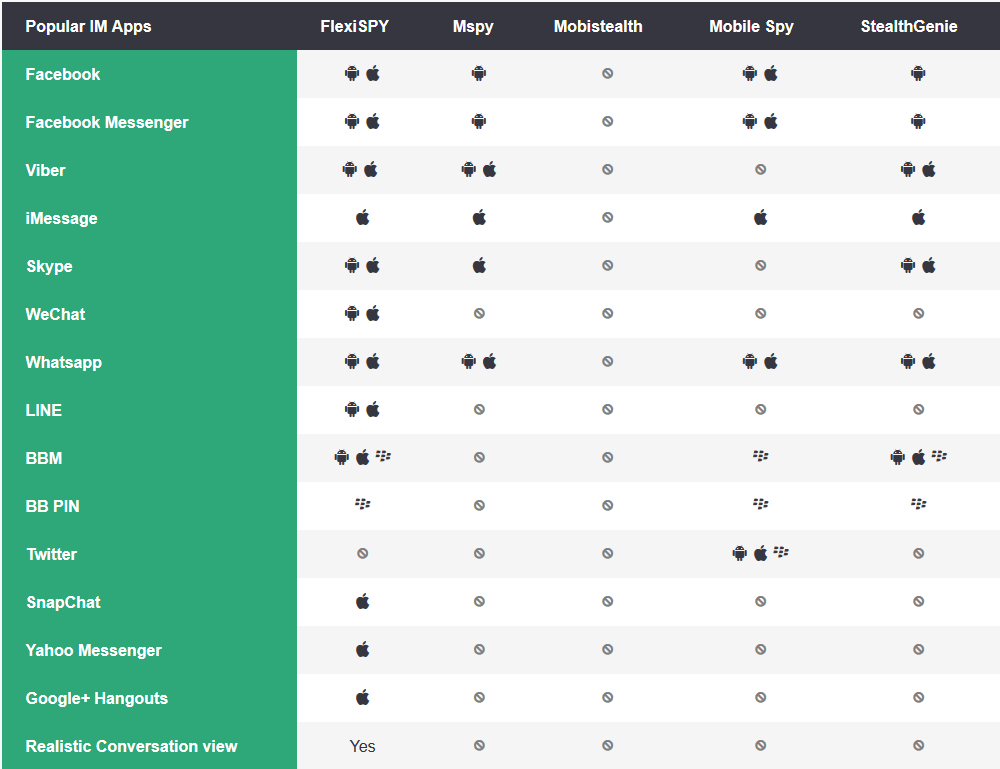 Want To See More Cell Phone Monitoring Software Reviews?
If you have any questions or comments about the best phone monitoring app - or if you want to see additional cell phone monitoring software reviews - let us know in the comments below.

Need more information? The FlexiSPY LABS team is happy to help. Contact Us today!