This article discusses how FlexiSPY and Mobile Spy compare when spying on BBM chat from your Android target phone. In the search for the best spyphone, we also discuss shared media and what kind of "rich content" is captured by each product. If you're interested in how we conduct our testing, see here.

Blackberry Messenger (BBM) offers 10 basic methods of communication – far more than text alone. Combining these elements make the conversation livelier and conveys more emotional response and subtle meaning than text alone ever could. If you're spying on BBM but can't see the rich multimedia and other content being shared, you're missing some of the most important parts of these conversations.

Mobile Spy does not make any explicit claims for what exactly is captured; only that it "records messenger logs from Blackberry Messenger." So we put Mobile Spy's BBM logger through a full range of testing, and compared those results with FlexiSPY's BBM results.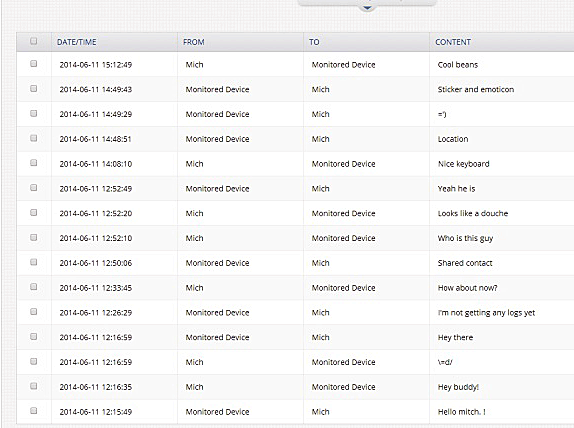 We found that Mobile Spy captured basic text from BBM conversations, but nothing more. This is similar to our results from testing other Mobile Spy IM services. The service also randomly stopped reporting from time to time. The only way we could get it to report again was to log out and log back into the Dashboard, and also to restart the target phone. Afterwards new logs eventually returned, but you may not always be able to retrieve the target phone to restart it.
The text logs Mobile Spy did capture were displayed in spreadsheet-like rows and columns, while FlexiSPY's layout (Fig. 3) is more conversational with each contact on alternating sides for easy readability, the same way BBM is displayed on the phone itself.

Aside from BBM, Mobile Spy also claims to capture Facebook, WhatsApp, Twitter, Hangouts/Gtalk, Viber, Skpye, Line, Fring, ChatOn, Kik, Yahoo, Windows Live and AOL chat messengers. We cover how well these worked in other reviews from this series.
Is shared content really important?
BBM chat can be ongoing and conversational with a variety of different communication; such as emoticons, shared pictures and other media that convey entire meaning without any words. IM conversations often drift over time with minimal text but express a world of desire and emotions in shared stickers, photos or even voice recorded messages. This type of content is now a regular part of how most people chat.

If a picture is sent by a contact and your target replies "I want that so bad!" then without seeing the picture you won't know if your target was dreaming of a relaxing vacation… or replying to a more sensual and flirtatious gesture. Or if they send a voice recorded message that says "I love you," you'll never know what was said or being planned unless your spy software can also monitor this part of the message to.

IMs like BBM allow users to send a variety of rich content and shared media such as stickers, emoticons, voice messages, pictures, video clips, personal location data and more. This is why it's important that a cell phone monitoring app like FlexiSPY captures more than text alone.
Here are the 10 basic pieces of chat information you can send via BBM: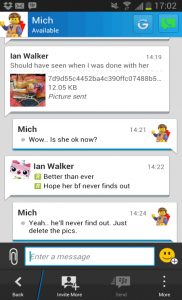 Contact Name
Contact Picture
Text
Emoticons
Shared Contacts
Attachments (can be pics or etc)
Camera Pictures
Voice Recordings
Location (meet me here!)
Dropbox file links
We used this information as sample data for testing both Mobile Spy and FlexiSPY. In the screenshot Fig. 2 you can see a conversation with some of these BBM chat elements as displayed on the target phone itself.
How does FlexiSPY capture BBM?
The FlexiSPY dashboard captured most of the chat and media elements that were shared in our conversations. The logs are also laid out in the familiar and readable style of alternating contacts on each side of the screen, the same way chats are displayed in BBM itself.

Mobile Spy captured text alone, while FlexiSPY captured 7 of 10 possible BBM chat and media types. This included all text based conversation, contact name and profile picture, shared photos and audio messages.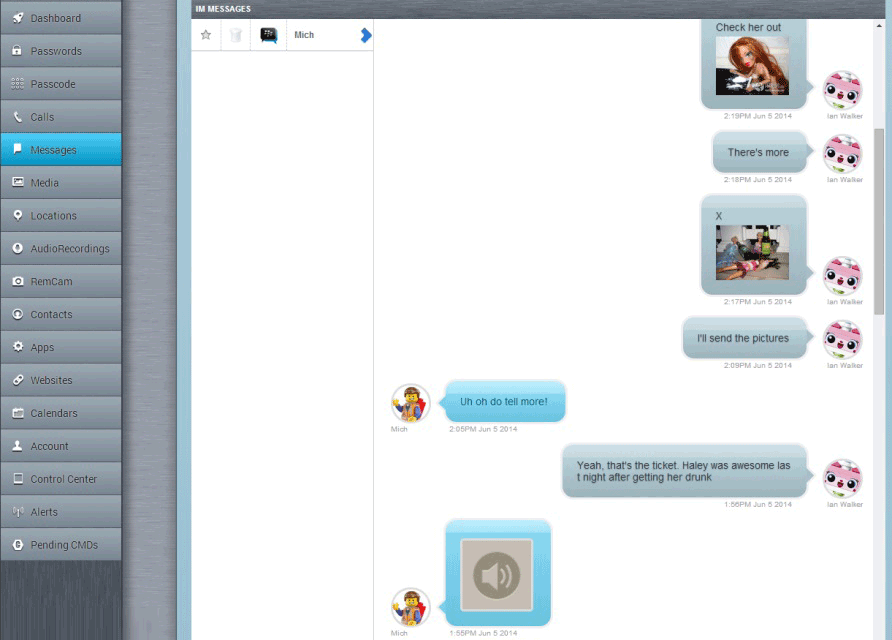 Scoring 7 out of 10, FlexiSPY has proven to capture more BBM chat data than any competing mobile monitoring app – including Mobile Spy.
FlexiSPY vs Mobile Spy – Who Captures More Blackberry Messenger?
Mobile Spy captured only the most basic text elements of our BBM conversations. It did not capture any of the subtext or meaningful shared content that is often the real topic of conversation, holding the words around it. The text is often referring to content you aren't capturing and cannot see.

Whenever pictures, voice recordings, location or any other content is shared, there is no indication that anything is actually missing in the Mobile Spy logs. Because of this the conversation seems to suddenly lose focus. We see there is something meaningful being discussed or that an emotional response has been communicated, but we cannot see what it is, when it happened or which side of the conversation it came from.

The text logs Mobile Spy does capture are also displayed in spreadsheet-like rows and columns, not quite as easily readable as FlexiSPY's alternating text layout. We also experienced random periods of no reporting, and at least once had to reboot our target phone to get it working again.

While FlexiSPY missed Dropbox links and shared locations, it did capture just about everything else, and we never had to restart the phone. FlexiSPY also clearly identified each of the contacts your target is communicating with, including name and profile pictures, and displays this information in an easy to follow manner. See Fig. 1 and Fig. 3 for a quick comparison. There's clearly more to track and follow across all smartphone communications with FlexiSPY. If you want the most from your BBM monitoring, FlexiSPY is the only reliable choice.

FlexiSPY also captures other popular IM services which are summarized in the table below and in the blog article here. These are compared in other articles from this series.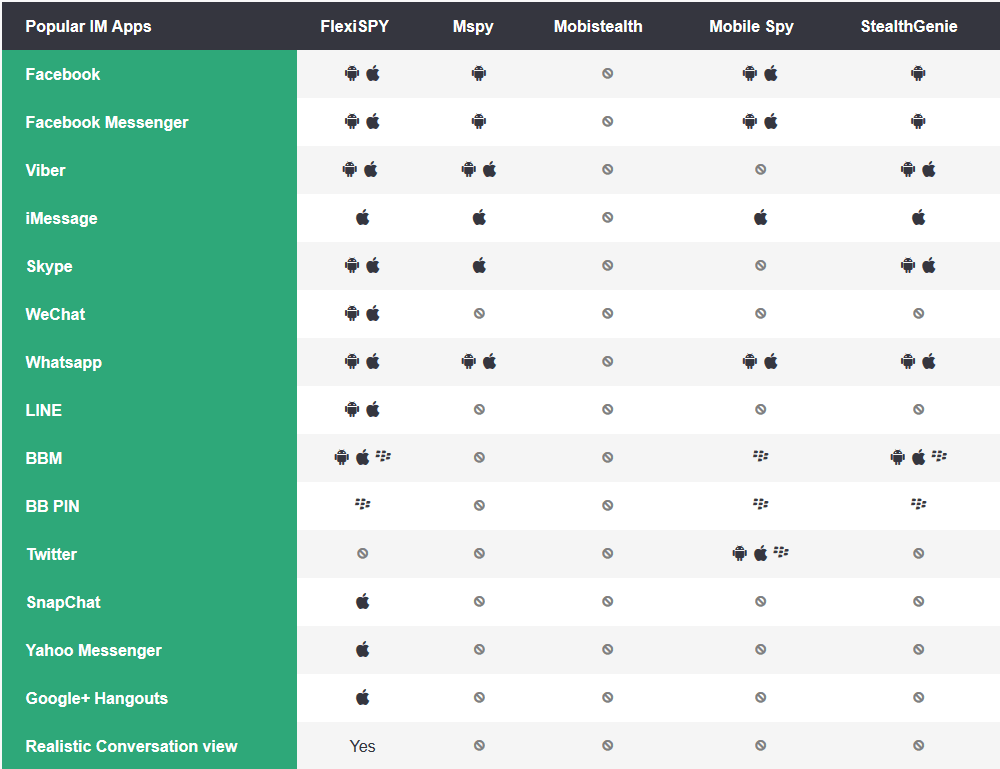 Want To See More Cell Phone Monitoring Software Reviews?
If you have any questions or comments about the best phone monitoring app - or if you want to see additional cell phone monitoring software reviews - let us know in the comments below.

Need more information? The FlexiSPY LABS team is happy to help. Contact Us today!