XNSpy is a product we have been wanting to test on Spy Phone Review for some time. The reason for this a little silly but, and we may be wrong, but we think that XNSpy could be TrackMyFone, just in a different name.

The following table shows our main notes, about how much of a competitive threat TrackMyFone provide to FlexiSPY, with one star meaning that they can technically be ignored and five stars meaning that they could cause serious problems with our business.
| XNSpy Positives | XNSpy Negatives |
| --- | --- |
| One of the few spy phone programs to feature call recording and live listening | This is TrackMyFone, just with call recording features added |
| Cheaper priced than FlexiSPY | Immediately detected by antivirus |
| The support team could resolve our upgrade issue | Installs itself in additional menus for web browsing and app blocking and can be found |
| | Cannot be installed if antivirus is installed at the same time |
| | Call recording doesn't work |
| | Ambient recording doesn't work |
| | GPS tracking failed |
| | Remote screenshots failed |
| | |
| | |
| | |
| | |
| | |
For those who do not know, StealthGenie was a popular spy phone product, similar to FlexiSPY, that was shut down by the US government some time ago. However, about that time too, XNSpy magically appeared as if to rise from the ashes of StealthGenie. We aren't saying that XNSpy is StealthGenie but we want to see just exactly what it can do.

From their website, as with FlexiSPY, Mspy, Mobile Spy and so on, it looks like XNSpy ticks all the same boxes. It supports Android and iPhone, requires physical access to the device you want to monitor to be installed, and has the same features that most other spy phone software also has.

XNSpy is available for Android and iPhone, the same as FlexiSPY. However, like Mspy and TrackMyFone, XNSpy is also available on iPhone as a no-jailbreak solution too. We have tested these in the past and found that they are not reliable and do not offer any real benefit. You can get more data after all when you physically install the software on to the device you want to monitor. Because of that, we will be reviewing the Android version of XNSpy here.

To start with, for Android, unlike FlexiSPY, XNSpy supports the latest version of Android OS, version 7.0. FlexiSPY still only supports up to Android OS 6.0.1 right now. For iPhone, as mentioned, XNSpy has the edge by offering a no-jailbreak solution, but, when it comes to comparing the iPhone product that you physically install, XNSpy only supports up to iOS 9.0.2, whereas FlexiSPY supports up to iOS 9.1.

For features, XNSpy advertises over 30 features. That is a lot, compared to other competitors, and it is the closest to the same number of features that FlexiSPY offers too. For subscription packages XNSpy is available in either a Basic or Premium edition and each of those has 1 month, 3 month or 12-month subscription packages.

For the sake of this review, we are comparing XNSpy Premium to the closest FlexiSPY package which is FlexiSPY Extreme. The complete list of features of XNSpy, compared to FlexiSPY Extreme, its closest competitor, is shown below.
| | XNSpy Premium for Android | FlexiSPY Extreme for Android |
| --- | --- | --- |
| Call logs | ✓ | ✓ |
| SMS messages | ✓ | ✓ |
| Contact alerts | ✓ | ✓ |
| Facebook Messenger | ✓ | ✓ |
| Whatsapp | ✓ | ✓ |
| Viber | ✓ | ✓ |
| Instagram | ✓ | ✓ |
| Kik Messenger | ✓ | ✓ |
| Tinder | ✓ | ✓ |
| Skype | ✓ | ✓ |
| GPS tracking | ✓ | ✓ |
| Geofencing alerts | ✓ | ✓ |
| Emails | ✓ | ✓ |
| Browsing history | ✓ | |
| Browser bookmarks | ✓ | ✓ |
| Keyword alerts | ✓ | ✓ |
| Call recording | ✓ | ✓ |
| Ambient recording | ✓ | ✓ |
| Photos | ✓ | ✓ |
| Videos | ✓ | ✓ |
| Calendar | ✓ | ✓ |
| Remote lock | ✓ | X |
| Remote wipe | ✓ | X |
| Installed apps | ✓ | ✓ |
| Remote app blocking | ✓ | X |
| Remote screenshots | ✓ | X |
When we compare the features of the two products they are very similar. What is interesting is that XNSpy, like TrackMyFone, offers remote device locking and remote device wiping as well as remote device screenshots and remote app blocking. FlexiSPY doesn't offer any of those features. On the other hand, it does offer a full suite of live listening and recording tools, such as call recording, call intercept, spycall and ambient recording.

We used to think that only FlexiSPY offered real call recording but XNSpy also claim to offer that as well. It will be interesting to see if these features are available or if they are just marketing blurb, as we have seen with other products, such as TheTruthSpy, where these features were advertised but you did not actually get them.

When it comes to pricing and subscriptions, XNSpy is a little more flexible. They offer an additional 1 month subscription package, whereas FlexiSPY do not. XNSpy are sneaky though with their pricing. They advertise the monthly price as the highlight and then have the actual price as the highlight, as you can see in the screenshot below.
The difference in pricing and subscriptions is shown in the comparison table below. Both products offer two main products in either 1, 3 or 12-month subscription packages. XNSpy though is considerably cheaper than FlexiSPY and still advertises nearly the same number of features.

When it comes to payment methods it is easier to pay for FlexiSPY. That is because they allow you to pay by credit card, PayPal, wire transfer and even Bitcoin. XNSpy only allow you to pay by credit card. This is something of an inconvenience because most other companies at least also offer PayPal.
XNSpy Android Spy App Test Summary
| Feature | XNSpy | Did it work? | FlexiSPY Extreme |
| --- | --- | --- | --- |
| Call logs | ✓ | Worked successfully | ✓ |
| SMS messages | ✓ | Worked successfully | ✓ |
| Contact alerts | ✓ | Alerts failed to work | ✓ |
| Facebook Messenger | ✓ | Worked successfully | ✓ |
| Whatsapp | ✓ | Worked successfully | ✓ |
| Viber | ✓ | Worked successfully | ✓ |
| Instagram | ✓ | Worked successfully | ✓ |
| Kik Messenger | ✓ | Worked successfully | ✓ |
| Tinder | ✓ | Worked successfully | ✓ |
| Skype | ✓ | Worked successfully | ✓ |
| GPS tracking | ✓ | GPS failed to work | ✓ |
| Geofencing alerts | ✓ | Alerts failed to work | ✓ |
| Emails | ✓ | Alerts Only supports Gmail app | ✓ |
| Browsing history | ✓ | Supports Chrome only | ✓ |
| Browser bookmarks | ✓ | Supports Chrome only | ✓ |
| Keyword alerts | ✓ | Alerts failed to work | ✓ |
| Call recording | ✓ | Failed to work | ✓ |
| Ambient recording | ✓ | Failed to work | ✓ |
| Photos | ✓ | Worked successfully | ✓ |
| Videos | ✓ | Failed to work | ✓ |
| Calendar | ✓ | Worked successfully | ✓ |
| Remote lock | ✓ | Worked successfully | ✓ |
| Remote wipe | ✓ | Failed to work | ✓ |
| Installed apps | ✓ | Worked successfully | ✓ |
| Remote app blocking | ✓ | Blocked apps cannot be unblocked | X |
| Remote screenshots | ✓ | Failed to work | X |
Can you remotely control XNSpy without their phone?
After you have installed the software on to the phone you want to monitor everything else is set up from inside the online portal. This is the exact same portal design as TrackMyFone, except in a red colour scheme, and it also has additional features, which are call recording and ambient recording. Apart from that it is the exact same online portal as TrackMyFone.
Everything is the same as TrackMyFone. The app blocking screen is the same too, just in red. What we found interesting though is that the ambient recording option and call recording option, which TrackMyFone does not have, failed to work. Nothing was uploaded during our testing.

The remote lock feature works the same as TrackMyFone. It applies a passcode to the device that can only be disabled on the device itself, there is no way to turn it off from the online portal. Similarly, if an app is blocked using the online portal then there is no way to unblock it again.

Unfortunately, the main features that we wanted to test that TrackMyFone did not have, call recording and ambient recording, failed to work. Not only that but features such as location tracking and remote screenshots, which worked in TrackMyFone, failed to work in XNSpy.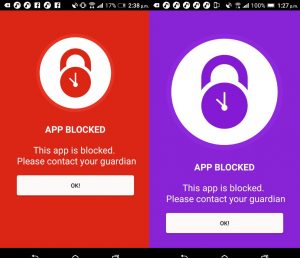 With the key differentiating features not working it makes it hard to recommend XNSpy over TrackMyFone. They are, based upon the testing here, essentially the same product. This also reaffirms that FlexiSPY is still the only phone monitoring software that not only advertises call recording features but also is the only company to provide them and for them to work.

Every other working feature of XNSpy is offered by FlexiSPY as well. FlexiSPY also offers more support for IM capturing as well as unique features such as SMS spoofing and RemCam (this is not the same as remote screenshots which takes screenshots of the device desktop, but instead actually takes remote pictures using the device front and back camera). This ultimately makes FlexiSPY the better product when compared to XNSpy.
Can you find XNSpy on the phone once it is installed?
We have found out so far that no spy phone software is really hidden when it says so on the marketing website. This means that either the icon is visible, the software can be seen in other areas or it gets picked up by antivirus already installed on the device.

In this regard, XNSpy is no different. But the installation method is a little strange. There is no difference between their website and the installation portal. What that means is that you will see a Buy Now and Log In button, even when you have logged in to the XNSpy installation portal. That makes it hard to understand when you are logged in and makes getting started confusing.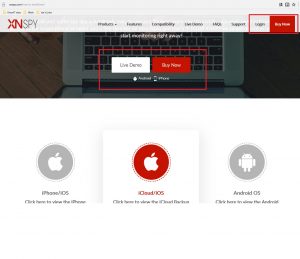 On our device, we already have antivirus software installed, and, in the case of people reading this, many of you may have antivirus also installed. We have discovered a trend here, the same as what happened with TrackMyFone happens with XNSpy. If you have antivirus installed then you cannot install the software, it will fail, and it even has the same error message.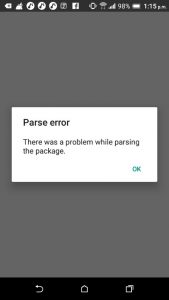 In fact, we are quietly confident that XNSpy and TrackMyFone are the same product, just with a different name, and we will discuss more about why we believe this later. With our antivirus removed we could install the software.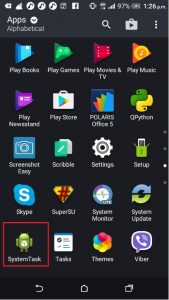 Immediately after we had finished installing the software and reinstalled the antivirus the software was immediately flagged.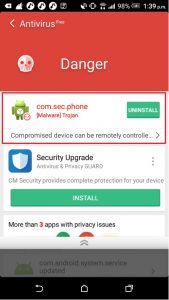 So, that is why the software forces you to remove the antivirus software first. In our tests, both Lookout and Clean Master detected XNSpy as a virus.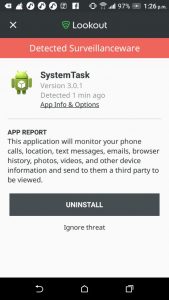 During installation, XNSpy also installs itself as a device administrator. This is because it is not fully hidden and in doing this it makes it just a little bit harder to uninstall.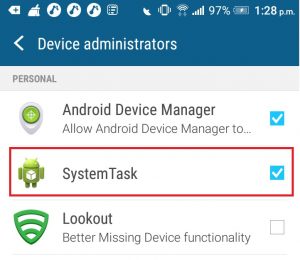 Remember how we thought that XNSpy was just TrackMyFone with a few extra features? Well, here's the proof, the activation screen.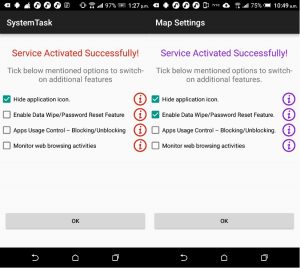 XNSpy installs itself in the same was TrackMyFone did. That means that it is visible in various menus for the browser capturing feature and the remote app blocking feature as well.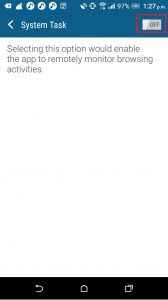 So, this is irrefutable proof that XNSpy is just TrackMyFone with call recording and live call listening. Chances are this is to try to deceive customers in to thinking that they do not offer real call recording. This is interesting and it would certainly stop the US government from looking too much further into XNSpy the same way that they investigated StealthGenie.
Does XNSpy cause an increase in battery or data usage?
Below we compare the battery percentage over the course of a typical work day – from 9am until 5pm – with XNSpy installed versus XNSpy removed. During the day, we are using our test device to make calls, send SMS messages and IM messages, browse the internet, watch YouTube videos and play games to simulate typical device use.

For monitoring the battery and RAM usage of XNSpy, we used System Monitor Lite from the Play Store. For data usage, we used My Data Manager. XNSpy is set to capture all data and upload it and GPS location every 5 minutes.

To measure how the device performed without XNSpy installed we monitored the battery usage, RAM and data usage of a typical Android application. In this case, we chose the default Weather application.
With XNSpy Installed vs XNSpy Removed

What is interesting here is that XNSpy did not really causes that much resource drain on the device, compared to a standard app, at least when it comes to data usage. Battery use was a different story. The device lasted the same amount of time, whether XNSpy is installed or not.

This is far better resource management than most other spy phone programs that causes a considerable drain on the device.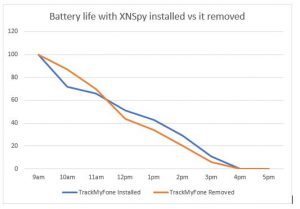 There is not much difference in battery usage with the software installed or whether ir is removed. This is a good thing for spy phone software to have. So far, in all our reviews, XNSpy has the best battery usage. That means that if you are looking for spy phone software that you can install on a device and does not drain the battery then XNSpy is recommended, except many of the features do not work.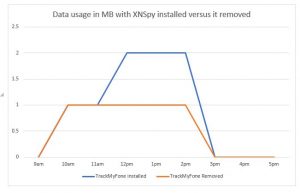 Data usage again with identical with the software installed versus the software removed. Again, this could have been because many features just did not work but, even so, this is still an example of good data resource usage for spy phone software. But the key features did not work for us. We imagine that, had they worked, they would have affected data usage, what with uploading recorded phone calls and such on a regular basis.
Do XNSpy support staff really solve problems?
XNSpy do not offer live chat support, not even for presales. At least FlexiSPY offers that. For technical support, everything is submitted through a ticket from the online portal, the same as FlexiSPY. Because we have had experience already with TrackMyFone and their support site, we suspect that we will get the same kind of replies from XNSpy.

We contacted them for several reasons during testing this software. First was to find out what they said for solving why the software did not download (antivirus) and second, which was more interesting, we had an upgrade issue. We originally started out testing with the Basic version of XNSpy and later upgraded to the Premium version to test features such as call recording and ambient recording.

After we had performed the upgrade the online portal correctly said that they were running the Premium version but the software features that were supposed to be unlocked, such as call recording, remained locked inside the portal.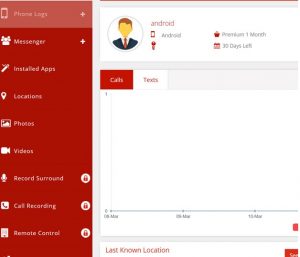 When we got a reply from the XNSpy support team it was clear that this is not the same team that supports TrackMyFone. The reply was courteous, friendly and even gave a real person's name. Unfortunately, though, they still just refer to customers using 'Dear Customer', instead of making it more personal.

Therefore, it is our belief that the support team for XNSpy is better than the support team used by TrackMyFone. But the product, TrackMyFone, is better than XNSpy. So, it seems that they just need to combine both products properly, in to one overall product, instead of splitting them to get the best result. Chances are though, this will never happen.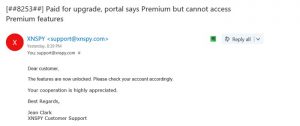 It took the XNSpy support team about 24 hours to reply to our help query. This is quite slow in times of social media, where everyone wants immediate replies. It was not as quick as both Mspy or FlexiSPY, with FlexiSPY being the quickest in providing reply to technical support issues. Suffice to say though, XNSpy did solve our upgrade issue and that was what allowed us to complete our feature testing for features such as call recording and ambient recording.
XNSpy Competitor Threat Level: 2 out of 5
What version of XNSpy was tested?
Product Tested: XNSpy Premium
Binary Version: 3.0.1
Binary Size: 3.2MB download, 9MB installed.
Phone: HTC Desire 816
OS: Android OS 6.0
The nearest equivalent FlexiSPY product is FlexiSPY Extreme priced at $199 USD for 3 months.