BREAKING NEWS: The StealthGenie Site Is Offline
It should be added that for the time being, StealthGenie have gone offline. If you're one of the purchasers of this software, and are unable to contact StealthGenie support, or couldn't get a StealthGenie refund, then we recommend that you head over to the FlexiSPY Trade In Program, where they will take StealthGenie off your hands.
In the search for the best spyphone available, we discuss how FlexiSPY and StealthGenie each spy on BBM chat communication on your Android target phone. We show how each app differs, and how well each also capture shared media and why this is so important. To understand our testing methods, click here. BBM chat offers at least 10 distinct methods of communication by our count. StealthGenie doesn't advertise many details about what parts of BBM it captures, so we put both SG and FlexiSPY through the full BBM monitoring test. SG did capture all BBM text, but failed to capture almost every other form of communication. No shared media such as pictures, audio message and others were ever captured by StealthGenie. Also important, no contact names are shown. In place of the name we see only an icon of a mobile phone or a string of numbers. The communication StealthGenie does capture is lined up in rows and columns, and confusing to follow without any contact or recipient names. FlexiSPY's layout has each contact (with name and picture) on alternating sides for easy readability, much like BBM is displayed naturally on the phone itself. If you really want the full meaning of an IM conversation, you need more than text alone. SG captured 3 of 10 kinds of BBM media, while FlexiSPY accurately captured 7 of 10. StealthGenie's inability to capture rich content also extended to all other IM services that StealthGenie captures. Aside from BBM, StealthGenie also claims to capture Facebook, WhatsApp, iMessage, Skype, GTalk, BBM, Blackberry PIN and Viber. We look at each of these in other articles from this series.
Is shared content important?
BBM chat is more ongoing and conversational with a variety of ways to communicate; like emoticons, shared pictures and other media that convey entire meaning with just a click. IM conversations aren't always isolated, but often ongoing through the day based on only minimal text that masks a world of desire and emotion shared in stickers, photos or even voice recorded messages. This type of content is now a regular part of how most people chat.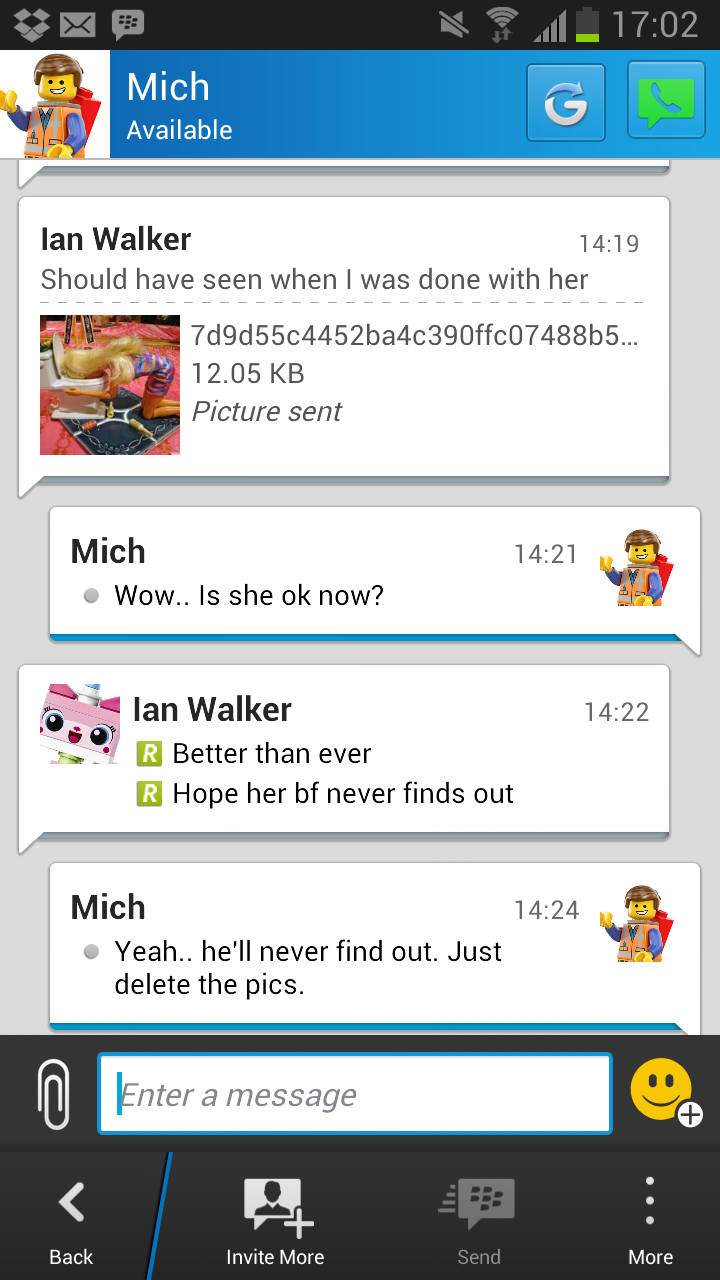 If a picture is sent by a contact and your target replies "I want that tonight!" then without seeing the picture you won't know if your target wanted a hot dog… or something even more mouth watering. Or if they send an audio recording that says "I love you," you'll never know what was really said or planned unless your spy software is also monitoring shared media and other content in the messages. Popular IMs like BBM let users send a variety of rich content and shared media such as stickers, emoticons, voice messages, pictures, video clips and location data. This is why it's important that a cell phone monitoring app like FlexiSPY captures more than text alone. Here are the ten pieces of chat information you can send via BBM:
Contact Name
Contact Picture
Text
Emoticons
Shared Contacts
Attachments (can be pics or etc)
Camera Pictures
Voice Recordings
Location (meet me here!)
Dropbox file links
We used this information as sample data for testing both StealthGenie and FlexiSPY. In the screenshot Fig. 2 you can see a conversation with some of these BBM chat elements as displayed on the target phone itself.
StealthGenie BBM logs
Although the text itself was accurately captured, it's not the easiest to follow without a name or picture of who's talking, especially when the logs are displayed in rows typical of a spreadsheet style format.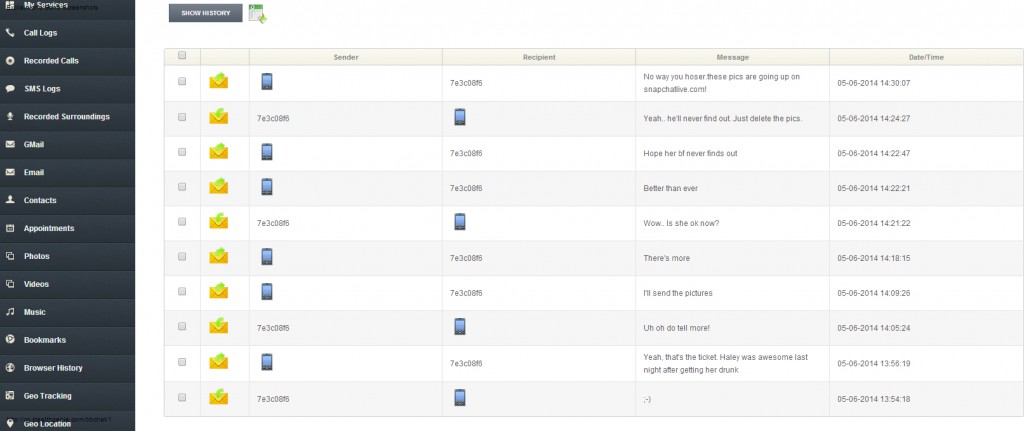 SG captured 3 of 10 possible BBM chat and media elements. However no shared media such as pictures, audio messages or etc. were ever captured. Neither was there any indication we were missing anything in the places that SG failed to capture, except sometimes given away by the subtext of the conversation. You can see in the screenshot differences between SG (Fig. 2) and FlexiSPY (Fig. 3) how this will leave some conversations impossible to follow.
How does FlexiSPY capture BBM?
The FlexiSPY dashboard captured most of the chat and media elements that were shared in our conversations.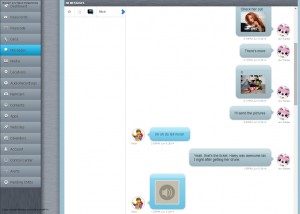 The logs are also laid out in the familiar and readable style of alternating contacts on each side of the screen, the same way chats are displayed in BBM itself. FlexiSPY captured 7 of 10 possible BBM chat and media types. This included all text based conversation, contact names and profile pictures, shared photos and audio messages. Scoring 7 out of 10, FlexiSPY has proven to capture more BBM chat data than any competing mobile monitoring app – including StealthGenie.
FlexiSPY vs StealthGenie – Who Captures More Blackberry Messenger?
While StealthGenie was able to capture Dropbox links and shared locations, it missed everything else except for basic text. While location data may sometimes be important, most spyphone software is already capable of tracking a phone's location, regardless. Without seeing the context of a conversation and important elements like shared photos, videos or audio messages, the real topic and meaning of that conversation can be lost. It's also important to know who your target is talking to, which StealthGenie does not indicate. While FlexiSPY missed Dropbox links and shared locations, it captured nearly everything else. Most importantly, FlexiSPY also clearly identifies each of the contacts your target is communicating with, and displays this information in an easy to follow, conversational manner. With the contact names and profile pictures, you'll be able to track other conversations your target is having with each person either by phone or other IM chat apps, because you'll have the name and know who it is. If the same contact name appears in FlexiSPY's captured contact list, you'll also have that contact's phone number. There's clearly more to track across all smartphone communications with FlexiSPY. FlexiSPY also captures other popular IM services which are summarized in the table below and in the blog article here. These are compared in other articles from this series.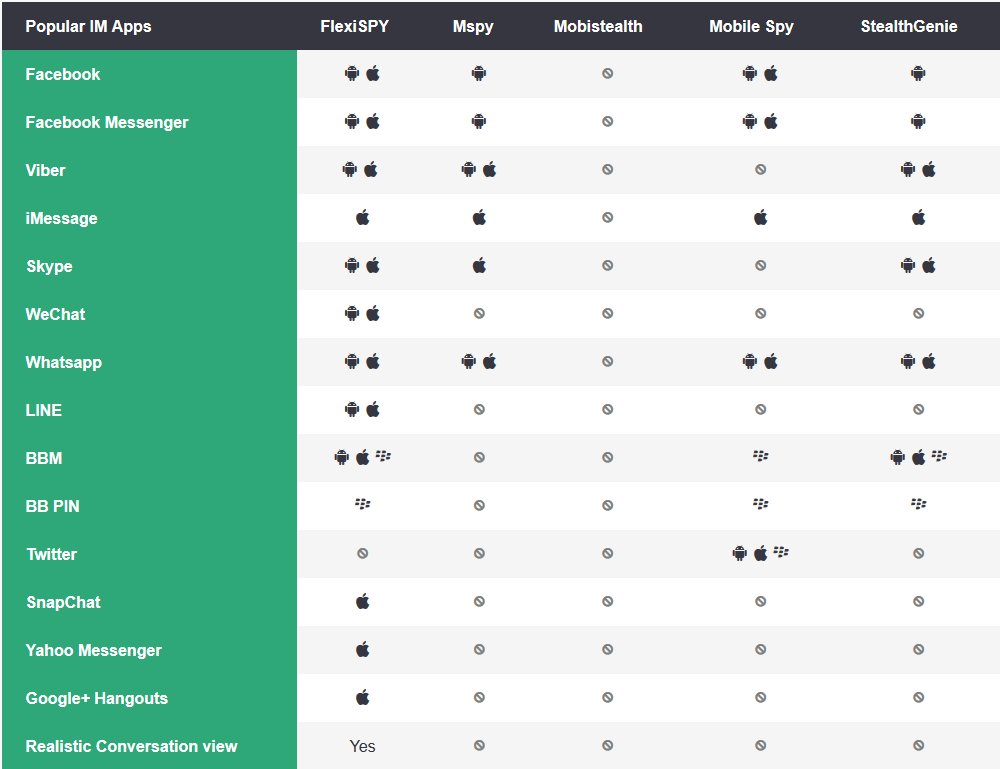 Want To See More Cell Phone Monitoring Software Reviews?
If you have any questions or comments about the best phone monitoring app - or if you want to see additional cell phone monitoring software reviews - let us know in the comments below.

Need more information? The FlexiSPY LABS team is happy to help. Contact Us today!